How Mulan Star Feels About The Movie Not Getting To Be Seen On The Big Screen Or In Movie Theaters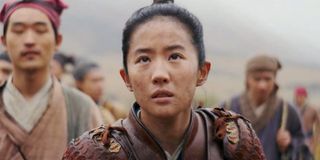 When it was announced back in August that the live-action version of Mulan would skip movie theaters and go straight to Disney+, it caused quite a stir. As you can imagine, that decision also affected the cast and crew and now one Mulan star shared how he felt when it didn't get a chance to be seen on the big screen. And now one such cast member has opened up about these complicated feelings.
For many movies, the theatrical experience is the key destination. So for Chen Tang, the actor who played Yao one of the soldiers that befriend Mulan, when Mulan didn't get that experience, he had mixed feelings about it. The actor told Insider that they filmed it big and intended for it to be seen big. Here's what he said:
After Mulan landed on Disney+, there was a serious case to be made that it truly deserved a theatrical release for it to be experienced to its fullest. Of course, in any other environment, Disney likely would have done just that. But due to current events, it thought it would be better going direct to VOD.
Mulan may not have gotten the theatrical experience it deserved, but Chen Tang sees a silver lining to all of it and is just happy people got to see it. He said later,
Disney's live-action remake strategy has been mostly a big success, with many of the movies breaking $1 billion at the box office. So they likely had the same hopes for Mulan. That said, it sounds like Mulan still did well on Disney+, with one head honcho saying they were pleased with what they saw.
Disney's Mulan won't be the only movie that would have gotten a theatrical release heading straight to Disney+ this year. In another surprise announcement in October, Disney revealed that Pixar's Soul will also skip the theater and go to Disney+, instead. Its planned release date is December 25. Unsurprisingly, this move has caused movie theaters to sound an alarm.
Though Mulan didn't get a theatrical release, it might not be out of the question for that to change in the future. After all, older movies get re-releases in the theater all the time. Perhaps Disney will do the same for Mulan once things go back to normal? I'd imagine there'd be quite a few fans eager to see it in the theater.
Your Daily Blend of Entertainment News
Thank you for signing up to CinemaBlend. You will receive a verification email shortly.
There was a problem. Please refresh the page and try again.