2007 Fall TV Preview: Cold Case On CBS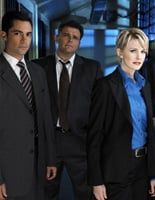 Cold Case - Season 5
Premieres: Sunday, September 23rd at 9:00 p.m. EST
Network: CBS
Creator(s): Meredith Stiehm
Starring: Kathryn Morris, Danny Pino, John Finn, Jeremy Ratchford, Thom Barry, Tracie Thomas
Website: CBS.com
Season 4 of this crime procedural ended on a cliffhanger that was as predictable as it was clichéd: Detective Lilly Rush (Kathryn Morris) was left fighting for her life on an operating table after being shot during a hostage crisis at police headquarters. Spoiler Alert To no one's surprise, Lilly survives to dig up more unsolved crimes in season five. Lilly will also be dealing with the psychological effects of being shot on the job. These issues are likely to account for the personal aspect of the storyline now that Lilly has found closure to her rocky relationship with her alcoholic mother, who passed away in the season four finale.
Cold case has always been praised for the way its story lines strike a delicate balance between the case of the week and the development of its main characters. However, while some fans found last season's dramatic finale to be both riveting and touching, others were dismayed by the sudden introduction of melodrama, and the cheap trick of ending the season with Lilly's fate unknown. Fans will just have to watch how the season develops to see if this was a one-time stunt, or if the writers will continue to place Lilly and her fellow detectives in ridiculous situations.
Your Daily Blend of Entertainment News
Thank you for signing up to CinemaBlend. You will receive a verification email shortly.
There was a problem. Please refresh the page and try again.