2009 Summer TV Preview: Monk - The Final Season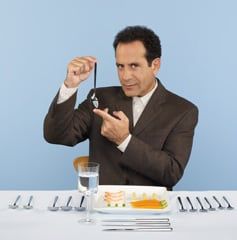 For any fan of the popular USA show Monk, the return of the series next month is kind of a big deal as it's already been announced that the eighth season of Monk will be its last. That's the bad news. The good news is, as the series concludes, it looks like the final season will be answering some questions and I'm assuming the biggest resolution will be learning the truth behind Monk's wife Trudy's death. Plus, at some point during the season, Sharona will be back!
Below is the full description, for the eighth season as posted by NBC Universal. This includes some information on the season premiere, which based on the videos below, looks like it's going to be a good one. Having just finished marathoning through the fourth season of Showtime's Weeds, I'm loving the fact that Elizabeth Perkins is guest starring in Monk's eighth season premiere.
Spoiler warning: NBC Universal's description below and the video clips posted further down contain some spoilers from the season premiere and future episodes, as well as the rather sizable list of guest stars. There are no details about Trudy's death or any other big spoilers in terms of the character development but if you want to go into this season without knowing what to expect, read no further!
Below are the videos. My favorite one is the last one, which is ridiculously hilarious:
Monk will premiere FRIDAY, AUGUST 7, 2009 AT 9/8C on USA.
Image 1 of 11