2007 Fall TV Preview: King Of The Hill On Fox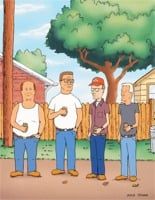 King of the Hill - Season 11
Premieres: Sunday, September 23rd at 8:30 p.m. EST
Network: FOX
Creator(s): Greg Daniels, Mike Judge
Starring: Mike Judge, Kathy Najimy, Pamela Adlon, Johnny Hardwick, Stephen Root, Brittany Murphy
Website: Fox.com
As with other adult-centric cartoons like The Simpsons and Family Guy, King of the Hill has plenty of people just like the folks in your own neighborhood. Hank Hill is a redneck Texan with a good heart. He's deeply committed to his job selling "propane and propane accessories" at Strickland Propane. His wife, Peggy Hill, is a strong, independent woman who never backs down from a fight. Their son, Bobby, is a little on the geeky side, but he knows who he is and what he wants. His cousin, Luanne, lives with them. The product of trailer-trash parents, she struggles through life with the help of her extended family. The Hills' neighbors and friends are Dale, Bill, Boomhauer, and assorted other characters.
Heading into its 11th season, we last left the Hills as Luanne and her boyfriend, Lucky (voiced by Heartbreaker Tom Petty), were planning to get married. Unable to afford the lavish wedding of Luanne's dreams, Lucky goes to work zapping bugs for Dale, but gets hurt and sues Dale for negligence. The blood-sucking attorney manages to connect Hank and Strickland to the lawsuit, as well. What a mess.
I love this show. It continues to deliver the goods year after year, offering spot-on commentary about modern life and dishing out messages that are neither corny nor sentimental. It's the real deal, and it holds my attention because the characters grow and evolve –or don't evolve, as the case may be.
Hank Hill is rife with traditional values, praising American-made products, scoffing at Worker's Comp checks, and eschewing yoga as a new-age cult. Like many men of his generation, though, he's not overly emotional. He'd rather drink beer than tell Peggy he loves her, and the idea of his son being a gourmet chef or comedian is unthinkable. But in the end, he's a good guy who's trying to make his way as best he can. Just like a lot of guys we know.
This show will undoubtedly run its course some day, but until then, I'll keep watching.
Your Daily Blend of Entertainment News
Thank you for signing up to CinemaBlend. You will receive a verification email shortly.
There was a problem. Please refresh the page and try again.