2008 Summer TV Preview: Meerkat Manor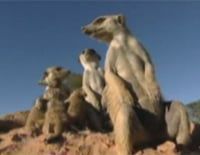 Meerkat Manor – The Next Generation - (Season 4)
Premieres: Friday, June 6, 2008 at 9:00 p.m. EST
Network: Animal Planet
Creator(s): Caroline Hawkins
Starring: Stockard Channing (Narrator), Meerkats
Website: AnimalPlanet.com
---
Meerkat Manor follows the Whiskers, a family of meerkats living in the Kalahari dessert. There are other families of meerkats living in the dessert, including the nearby Zappa and Starsky families but the show's main focus is on the Whiskers. The series follows the meerkats' daily routines as well as how they interact with one another.
Last season, Flower, the female leader of the family died after being bitten by a snake. This means there's room for someone to step up and take her place. Rocket Dog manages to work her way up the ranks and take the spot but Maybelline isn't happy with this and decides to start her own tribe, dividing the family. Stockard Channing is stepping in to replace Sean Astin as narrator of the U.S. version of the show this season.
I've never watched this show but between what I've heard about it added to the description for the new season, I can't help but be intrigued. A family torn apart after their leader dies. Two sisters rising up to lead rival communities - It sounds like a soap opera… with fur. Is anyone watching this series? Is it any good? Feel free to leave a comment below letting us know why it's a must-watch. In the meantime, I'm sold enough on the description (and the moderate hype) to check out the season premiere.
For the full 2008 Summer TV Premiere Schedule: CLICK HERE
Your Daily Blend of Entertainment News
Thank you for signing up to CinemaBlend. You will receive a verification email shortly.
There was a problem. Please refresh the page and try again.