2008 Winter TV Preview: 10 Items Or Less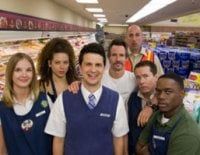 10 Items or Less - Season 2
Premieres: Tuesday, January 15th at 11:00 p.m. EST
Network:TBS
Creator(s):John Lehr, Nacy Hower, Robert Hickey
Starring:: John Lehr, Robert Clendenin, Roberta Valderrama, Greg Davis, Jr., Kirsten Gronfield, Christopher Liam Moore, Chris Payne Gilbert
Website: TBS.com
In 10 Items or Less, John Lehr plays a failed business man who moves back to his hometown in order to take over Greens & Grains, the family grocery store. The show itself is part scripted and part improvisational. Like any workplace comedy, 10 Items' Greens & Grains has its share of dysfunctional employees, including the doofus sidekick, the Ren-Faire-obsessed customer service representative and the cashier who dreams of becoming a professional ice dancer.
Last season's episodes dealt with Leslie adjusting to being the new boss, trying to drum up business by exploiting a water stain that resembled Jesus and dealing with the company health insurance plan. The 5-episode season ended with an intense bagging competition between Green & Grains and their rivals over at Supervaluemart. This season begins with a failed robbery that leads to the G&G employees being held hostage in the store.
TBS.com has tons of 10 Items or less videos that you can check out to help you get acquainted with the show. I checked a few out, including the Season 2 sneak preview, and I wasn't very impressed. 10 Items seems to model itself after workplace comedies like the office, but all of the characters come off as dim-witted Michael Scotts. 10 Items or Less isn't nearly funny or edgy enough to separate itself from the other original cable sitcoms.
For the full 2008 Winter TV Premiere Schedule: CLICK HERE
Your Daily Blend of Entertainment News
Your Daily Blend of Entertainment News
Thank you for signing up to CinemaBlend. You will receive a verification email shortly.
There was a problem. Please refresh the page and try again.