2008 Winter TV Preview: Make Me A Supermodel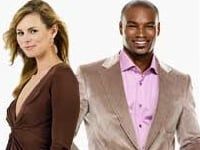 Make Me a Supermodel - Season 1
Premieres: Thursday, January 10th at 10:00 p.m. EST
Network: Bravo
Creator(s): Jaime Munro, Lisa Perrin, Andrew Zein
Starring:: Niki Taylor, Tyson Beckford
Website: BravoTV.com
Based on the popular British TV series hosted by Rachel Hunter, Make Me a Supermodel is pretty much exactly what you would expect. The Niki Taylor/Tyson Beckford version features 14 models competing for a $100,000 prize and a modeling contract with New York Model Management. The contestants live together in a loft during the 12-week process, with much laughing, fighting and nudity surely to ensue.
There are a few things that make Supermodel different from other modeling shows, such as America's Next Top Model. Instead of a house full of 14 young women catfighting their way to VHI Celebreality stardom, Supermodel's loft is co-ed. There are 7 female contestants and 7 male. Another aspect of this show that sets it apart from almost every other reality show on the air is that it's happening almost in real time. Now, it's not quite Big Brother real time, but instead of a standard 5 or so months between production and air, there's about a week. January 10th's premiere was just shot on January 4th.
It takes a good hook to make me give a crap about models, super or otherwise. I watch Top Model because I find Tyra Banks' growing insanity completely captivating, but anything having to do with the models is invariably the most boring part of any given Project Runway episode. Make Me a Supermodel almost had me for a minute when I heard that one of the female contestants was actually a man. Unfortunately, I did a little research and found that the actual quote was, "My name's Shannon, and one of the most interesting facts about me is that despite my extremely feminine physical appearance, I'm actually a man." Then, after a very, very long pause, "I'm one of the most masculine girls you'll ever meet. I'm like one of the boys." BORING.
So, what I'm trying to say is, I don't know. Bravo generally has good reality shows and it's not like there's anything else on. I'm also intrigued to see how the week-long episode turnaround will affect the season. I just don't know if any of these things will be enough to help me get over my model apathy. I'll probably tune in when they rerun it on Sunday afternoon or whatever, but as soon as I start having nightmares about Niki Taylor's headstone-sized teeth; I'm out.
For the full 2008 Winter TV Premiere Schedule: CLICK HERE
Image 1 of 1
Your Daily Blend of Entertainment News
Your Daily Blend of Entertainment News
Thank you for signing up to CinemaBlend. You will receive a verification email shortly.
There was a problem. Please refresh the page and try again.