2008 Winter TV Preview: Survivor: Micronesia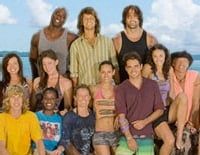 Survivor Season 16
Premieres: Thursday, February 7th at 8:00 p.m. EST
Network: CBS
Creator(s): Mark Burnett
Starring:: Jeff Probst
Website: CBS.com (opens in new tab)
If you don't know the format of Survivor by now, then you've probably been asleep for the past 7 years or so. Survivor throws 16 to 20 people onto an island, starves them for 30 days, divides them into teams (called tribes) and makes them compete against each other (and/or get naked) for small prizes, such as candy bars or peanut butter. Every week, those who either win immunity or scheme and backstab well enough are allowed to stay, while one unlucky soul is kicked off by his/or her teammates at the tribal council. At the end of the allotted time, two contestants remain and the winner is voted upon by the ousted castmembers. The last one standing wins a million dollars.
This season on Survivor: Micronesia, the theme is fans vs. favorites. 10 fans compete against 10 past Survivor contestants, including Johnny Fairplay and his undead grandmother.
I have watched exactly one season of Survivor (Season 2) and although it sucked me in at the time, by the time the next season rolled around, I couldn't be bothered to care anymore. Survivor seems to be a big fan of making people eat gross things, which is a brand of TV of which I am not particularly fond.
Another thing that bothers me about Survivor is its attempts to make the show fresh by mixing up the format. They've separated contestants based on age, gender, and most notably, race. The whole thing seems exploitative and even worse, boring. However, I will say that this season's theme, fans vs. favorites, does seem like fun. If only to see exactly how much everybody hates Johnny Fairplay.
Check out the Survivor: Micronesia trailer below.
For the full 2008 Winter TV Premiere Schedule: CLICK HERE
Your Daily Blend of Entertainment News
Your Daily Blend of Entertainment News
Thank you for signing up to CinemaBlend. You will receive a verification email shortly.
There was a problem. Please refresh the page and try again.