2009 Fall TV Premiere: Hank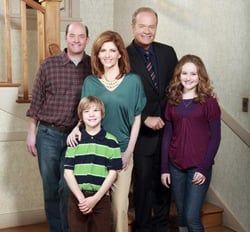 One of ABC's new comedy series premiering during the Fall 2009 season is Hank. Set to air Wednesdays at 8:00pm ET.
Below is the series description as posted by ABC:
Hank - Kelsey Grammer stars in this timely comedy as Hank Pryor, a titan of industry who suddenly finds himself out of work, almost out of money and around a wife and kids for whom he's never made much time. Despite his recent setbacks, however, Hank is confident he's on the road back to the top. He knows he is destined to return to greatness. And he is — just not the greatness he imagines.
PRODUCTION COMPANIES: Bonanza Productions Inc., McMonkey Inc., Gramnet Productions, Werner Entertainment, Warner Bros
EXECUTIVE PRODUCERS: Tom Werner, Tucker Crawley, Kelsey Grammar, Mike Clements
DIRECTOR: James Burrows
CAST: Kelsey Grammer as Hank, Melinda McGraw as Tilly, David Koechner as Grady, Macey Cruthird as Maddie and Ryan Wynott as Henry.
---
Kelsey Grammar has spent the last few years trying to prove that playing Dr. Frasier Crane wasn't an anomaly. I'm still wondering how the Cheers spinoff kept winning Emmy's and being so popular. Grammar has moved on, but I can't help but feel that the big guy who stumbles shtick is going to flub when it comes to finding an audience.
Click here to view ABC's full 2009 primetime schedule.
Staff Writer at CinemaBlend.
Your Daily Blend of Entertainment News
Thank you for signing up to CinemaBlend. You will receive a verification email shortly.
There was a problem. Please refresh the page and try again.