2009 Midseason TV Preview: Biggest Loser: Couples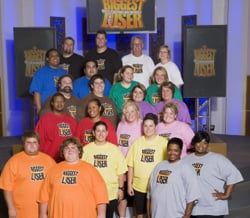 The Biggest Loser: Couples - Season 7
Premieres: Tuesday, January 6, 2009 at 8:00 PM ET
Network: NBC
Creator(s): Ben Silverman, Dave Broome, JD Roth, Todd A. Nelson, Mark Koops
Starring: People looking to lose weight, Alison Sweeney (host), Bob Harper (trainer), Jillian Michaels (trainer)
Website: ABC.com
---
NBC's weight loss show kicks off its new season with a twist and the biggest contestant ever on the show. The Biggest Loser: Couples, which you have to admit has a bit of a passive aggressive tone to its title, is surprisingly entertaining to watch. Not because you get to see out of shape people try to climb stairs, but because the series attempts to help these people. I'm not going to get into the issue of our food industry as the real problem with weight in this country, that's not what Biggest Loser is about.
This year the show features a few firsts including the oldest contestants (a 63-year-old couple), the heaviest female competitor (379lbs), and the heaviest guy in the show's history at 454lbs. The show will begin with the contestants entering the gym on their own, while trainers Bob and Jillian watch them on a hidden camera. After teams are chosen host Alison Sweeney will unveil the big twist for this season…uh, no pun intended.
Click here for the full 2009 Midseason TV Premiere Schedule
Image 1 of 11
Image 2 of 11
Image 3 of 11
Image 4 of 11
Image 5 of 11
Image 6 of 11
Image 7 of 11
Image 8 of 11
Image 9 of 11
Image 10 of 11
Image 11 of 11
Staff Writer at CinemaBlend.
Your Daily Blend of Entertainment News
Thank you for signing up to CinemaBlend. You will receive a verification email shortly.
There was a problem. Please refresh the page and try again.