2009 Midseason TV Preview: Homeland Security USA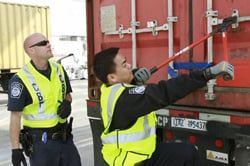 Homeland Security USA - Series Premiere
Premieres: Tuesday, January 6, 2009 at 8:00 PM ET
Network: ABC
Creator(s): Arnold Shapiro
Starring: Homeland Security Officers
Website: ABC.com
---
Homeland Security USA is the first time the Department of Homeland Security has allowed – and actually partnered in the making of – nearly full access to its processes and procedures for release to the public. The series is 13 hour long episodes shot on location along the more than 100,000 miles of American borders. The show will shift between airports, seaports, deserts and the internet. Yup, the internet borders our country as well. We're a pretty big deal.
The show is produced by Arnold Shapiro (Scared Straight, Rescue 911 and Big Brother) and will follow the men and women actually standing on the front lines defending our borders. What the show has to prove is that it is not propaganda material, which is a hard thing to do since the Department of Homeland Security is behind the series. I'd love to see a show about these people and the job they have to do each day. What I don't need is politics and excuses shoved in my face for an hour each week.
Click here for the full 2009 Midseason TV Premiere Schedule
Image 1 of 10
Image 2 of 10
Image 3 of 10
Image 4 of 10
Image 5 of 10
Image 6 of 10
Image 7 of 10
Image 8 of 10
Image 9 of 10
Image 10 of 10
Staff Writer at CinemaBlend.
Your Daily Blend of Entertainment News
Thank you for signing up to CinemaBlend. You will receive a verification email shortly.
There was a problem. Please refresh the page and try again.