2009 Midseason TV Preview: Howie Do It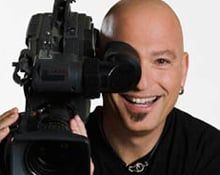 Howie Do It - Season 1
Premieres: Friday, January 9, 2009 at 8:00 PM ET
Network: MTV
Creator(s): Howie Mandel, Scott Hallock, Kevin Healey, Michael Rotenberg, Morgan Elliott, Mike Marks (executive producers)
Starring: Howie Mandel (host)
Website: NBC.com
---
If there are two things American TV watchers can't seem to get enough of, it's hidden camera shows and Howie Mandel. In Howie Do It, Mandel takes to the streets to play pranks on people who don't realize they're on camera.
"During each episode, the unsuspecting "marks" will think they are the stars of a new game show or reality show, or that they are auditioning for a big Hollywood movie or television role. What they don't realize is, they ARE the stars, but in the most unexpected and entertaining way, in front of millions of people on TV."
From some of the videos below, it looks like Howie actually participates directly in some of the pranks and thanks to his collection of bad wigs, the people don't seem to recognize him.
Your Daily Blend of Entertainment News
Thank you for signing up to CinemaBlend. You will receive a verification email shortly.
There was a problem. Please refresh the page and try again.