2009 Midseason TV Preview: Scrubs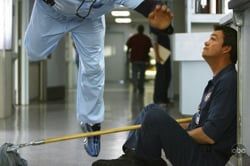 Scrubs - Season 8
Premieres: Tuesday, January 6, 2009 at 9:00 PM ET
Network: ABC
Creator(s): Bill Lawrence (Executive Producer)
Starring: Zach Braff, Donald Faison, Sarah Chalke, Judy Reyes, John C. McGinley, Ken Jenkins, Neil Flynn, Courtney Cox
Website: ABC.com
---
Scrubs may have been misplaced by NBC last year, but the best half hour of medical television returns on a new network January 6th. Continuing the story of the staff at Sacred Heart the new season of Scrubs picks up where we last left off. Former Chief of Medicine Bob Kelso sits in the coffee shop keeping an eye on his former subordinates, Dr. Cox eschews conventional teaching methods to show his staff the true meaning of Christmas…wait, I'm thinking of another show with that one. OK, so this is Scrubs as it formally was. At least from what we've seen.
I wouldn't have it any other way, and if this is the last season of the show I'm glad that creator Bill Lawrence was smart enough to return the show to its roots. You know the comedy thing? Yeah that's where Scrubs always worked best. The writers and actors always had a way of making the darkest tragedies comedic in some way. It's the part of the show that has been missing for two seasons. Below we have some clips from the first two episodes, including a rendition of the future favorite song "Steak Night" with Ted conducting a harmonious end to the number.
Click here for the full 2009 Midseason TV Premiere Schedule
Image 1 of 15
Image 2 of 15
Image 3 of 15
Image 4 of 15
Image 5 of 15
Image 6 of 15
Image 7 of 15
Image 8 of 15
Image 9 of 15
Image 10 of 15
Image 11 of 15
Image 12 of 15
Image 13 of 15
Image 14 of 15
Image 15 of 15
Staff Writer at CinemaBlend.