Archer Preview: Season 3, Episode 7 - Crossing Over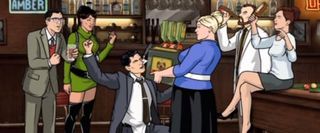 This may sound redundant but this week's Archer looks incredible. After what was just a solid outing last week with "Bloody Ferlin," the FX animated series looks to be pulling out all the stops with "Crossing Over." Not only are Sterling's sexual escapades affecting his work, more so than usual, but we also get the return of Barry. Sorry, Bionic Barry. That in and of itself is more than enough reason to tune in on Thursday night. Barry is back!
Even though the official synopsis for the episode (posted below) focuses on the complications that arise from our hero's sexual exploits, only the first few seconds of the trailer hint at that storyline. But, if you're going to hint at it, what a way to go since it seems like Archer and, of all people, Pam climbed into bed together and even though he hopes it's not relevant somehow her childhood growing up on a farm came into play... Yikes.
The main focus of the week seems to be the possible defection of head of the KGB Nikolai Jakov (Peter Newman) and the complications that arise for ISIS as a result. The 'what's Russian for duh?' joke (when Archer says it, it sounds like Da, which is Russian for yes) is a perfect example of just how simultaneously silly and smart the show can be, all while making us laugh hysterically.
And of course the safe house that Jakov is sent to isn't safe (if we learned anything from the Denzel Washington and Ryan Reynold's Safe house, it's that no one is safe in the safe house), which brings us to Barry. Are you going to kidnap Jakov from the safe house Bionic Barry? I sure am Bionic Barry.
Archer airs Thursdays at 10 p.m. ET on FX. It stars H. Jon Benjamin, Aisha Tyler, Jessica Walters, Judy Greer, Chris Parnell and Amber Nash. It was created by Adam Reed.
Official synopsis via the Archer Website on FX,
Your Daily Blend of Entertainment News
Your Daily Blend of Entertainment News
Thank you for signing up to CinemaBlend. You will receive a verification email shortly.
There was a problem. Please refresh the page and try again.