Bryan Fuller Wants To Reboot The Munsters For NBC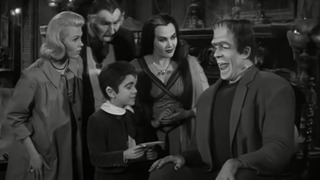 (Image credit: NBC)
If you're a fan of good TV, you should know the name Bryan Fuller. Over the years, he's created such wonderfully bizarre shows as Dead Like Me, Wonderfalls, Pushing Daisies, and what would have, in a better world, become an ongoing series on the Sci-Fi Channel, The Amazing Screw-On Head, based on Mike Mignola's comic book. Unfortunately, as you may have noticed from those titles, Fuller shares a quality with fellow Wonderfalls writer Tim Minear: making amazing shows that die young. Still, the silver lining of that is that we keep getting to see new Bryan Fuller stories, and he always keeps us guessing as to what might come next. Apparently, what might come next is The Munsters. Go figure.
TV Guide reports that Fuller has been meeting recently with NBC execs about rebooting the classic sitcom about a jovial family of suburban monsters. At first glance, you might dismiss this as a "pay the rent" kind of gig, less interesting than Fuller's original ideas. However, this is clearly a project Fuller is passionate about, because this is actually the second time he's tried to get it up and running. He was developing the show last year, but the network passed when it came time to hand out the greenlights. Apparently everybody involved thought there was enough potential to give it another go, and the brief description TV Guide has of Fuller's take on the material does sound more interesting than you might expect:
Intrigued yet? I have to say, even though I'm not one-hundred percent sold, I am fascinated to see what the hell a Fuller-created hour-long Munsters drama would look like. Although if we have to reboot a creep-com from the era, I wish Fuller had fallen in love with The Addams Family instead.
Between The Munsters, the recently announced Bewitched reboot, the upcoming Charlie's Angels redo, and the already-hit Hawaii Five-0, primetime over the next couple of years is going to look an awful lot like after-school syndicated programming from my grade-school years.
Your Daily Blend of Entertainment News