Comic Con 2011: FX's Hilarious Wilfred Panel And Special Screening Of Pride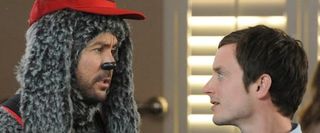 It's always a treat when you watch a show you love to find out that the actors, whose chemistry makes it work so well onscreen, have the same affection, banter and love for each other off-screen. I could tell instantly, when Jason Gann and Elijah Wood sat down across from me that they have it, whatever it is, and that's why me and a ballroom full of people adore their dark and twisted comedy Wilfred.
The FX show is only in the middle of its first season and it's already surpassed all FX comedy benchmarks almost assuring a renewal for Season 2. In fact, when executive producer David Zuckerman was asked whether the early success guarantees another go he simply replied, yes (I should say though, that his answer in the press room was much more diplomatic... meaning, no confirmation just a hopeful outlook).
Among the usual questions, you know the ones; how were you cast? what did you think when you read the script? Some actual cool tidbits came out of the woodwork. First off all, they will continue their run of guest stars, having seen the dog-molesting Ed Helms last week, with Jane Kaczmarick appearing next week (in the episode called 'Pride,' which FX just screening for a amazingly receptive audience... more on that soon) and Dwight Yoakam scheduled for later in the season.
So speaking of the special screening of 'Pride,' it gave us everything Wilfred fans have come to love about the show, basically a whole lot of laughs. It was extra special to get to watch the episode with the cast standing along the back wall because you could see how much they were also enjoying it (and our enjoyment).
The plans for the rest of the season were kept mum, but they did ay that we're in for quite the devastating, and even cliffhanger finale which director Randall Einhorn describes as in the vein of Lost, meaning that it raises more questions than it answers. While Lost may seem like an odd comparison, it's no more odd than a show about a man in a dog suit. Lastly, Einhorn noted that this is first series to be shot with still cameras, which to a geek like me, is totally rad and, he said, it helps him achieve that Lynchian look as well as a shallow depth of field from Ryan's point of view (especially when his POV goes a little crazier than usual).
If you're not watching Wilfred on FX, Thrusdays at 10 p.m. ET, you should be. And it sounds like it's only going to get better. Oh, and speaking of geek out moments, Dominic Monaghan made an appearance in the press room and seeing Frodo and Merry together again, let's just say everyone went running for their cameras.