A&E's Gene Simmons Family Jewels Cancelled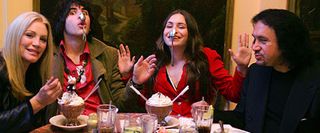 After seven seasons on air, the mostly reality-driven show Gene Simmons: Family Jewels is getting axed. The formerly popular A&E program, which followed KISS bassist and singer Gene Simmons, his girlfriend/wife Shannon Tweed, and their two kids, Sophie and Nick, was riding on a pretty high horse at the end of Season 6. Last year's wedding episode brought in over 3 million viewers, thanks to A&E securing the rights to show some of Gene and Shannon's nuptials, but those numbers could not be maintained into the following season.
It seems like it has been time for spring cleaning over at A&E. The cable channel also recently cancelled Dog the Bounty Hunter, another show that has been a network staple for the past eight seasons. Although I will genuinely miss Nick making some dumb statements in the promo footage for Family Jewels, Deadline is reporting the parting of ways simply occurred because the ratings could not cut it against some of the network's newer shows.
A&E seems grateful for everything the Simmons family and fans of the show did for the network. Gene Simmons: Family Jewels was part of a block of programming that really brought a new face to a channel known for airing reruns, and I think A&E wanted to be as gentle with its cancellation as possible, or at least that's how the network tried to come across in a message earlier today.
While I would agree shows like Storage Wars have brought a fresher perspective to the channel's programming, now that Family Jewels is gone, the network will definitely be exhibiting a less star-fueled lineup. I can't say I will miss the celebrity hairdos all that much.
Your Daily Blend of Entertainment News