Homeland Preview: Season 1, Episode 5 - Blind Spot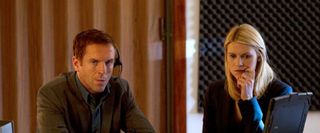 Showtime's first season of Homeland has left me certain of nothing so far except that it is a fantastic new series and I can't stop watching. Very few series can come out of the gates running in their freshman year but with their '8 episode-no time to waste' format, Homeland had no choice. It was make it or break it and so far, they've made it one of the most interesting hours of television each week.
Although I said I'm not really certain or anything, I will say that as the weeks progress I am becoming more and more convinced that Brody was in fact turned. However, 'was' is the important word because the longer he has to re-immerse in his former life, the greater the chance of him seeing through the brainwashing and returning to his family. The show is already reflecting this change in his demeanor though the contrasting use of flashbacks between the episodes prior and "Semper I." Not to mention his lovely little rendezvous with Carrie at episode's end. And speaking of Carrie, I'm also rather certain that since she is mentally incapable of stopping she's going to do something seemingly irreparable in the pursuit of perceived justice. She's definitely not going to make it out clean. Will anyone?
Lastly, and most important and prescient, is the question of the warning call to Raqim's scary wife - which preceded an interesting and perhaps standout sequences in the series, namely getting to spend time with the terrorists from their point of view. It was jarring to spend those brief moments alone with them and perhaps we'll only get more as the series progresses? And what does the call imply? A mole in the CIA? Is Carrie being tailed?
The clips from this Sunday's episode, "Blind Spot," show that Carrie is very much still hot on the tail of the Faisels, even getting clearance to set up surveillance. More importantly, we see that the scenes between Brody and Carrie will continue (amazing) and it looks like he's even being brought into the fold to aid in the investigation (or is this just another of Carrie's ploys?). The intrigue and con games continue. I can't wait to watch it all play out.
Homeland airs on Showtime, Sundays at 10 p.m. ET/PT. It stars Claire Danes, Damian Lewis, Mandy Patinkin and Morena Baccarin.
Your Daily Blend of Entertainment News
Thank you for signing up to CinemaBlend. You will receive a verification email shortly.
There was a problem. Please refresh the page and try again.