Journeyman's Last Journey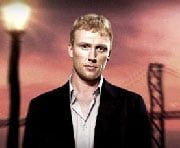 The idea that the strike would make networks hang on to shows that they normally wouldn't has not proven to be true for Journeyman. According to E! Online, NBC has canceled the struggling Sci-Fi series. Journeyman has two more new episodes ready to air, but NBC hasn't announced whether or not they will be shown next Monday and Wednesday as previously scheduled.
Journeyman follows Dan Vasser (Kevin McKidd), a reporter with the ability to time travel. While he doesn't have any control over his ability, he often manages to change a person's destiny during his excursions. The problem that Vasser runs into is the fact that while he's in the past, he's no longer in present time, causing the obvious problems with his job and home life.
With ratings that have steadily fallen from its 5.9 million-viewer premiere, cancellation has seemed all but inevitable. Journeyman's saving grace could have come in the form of a pilot season affected by the ongoing writers strike. Networks are going to be slower than usual with the hatchet if there's a chance they won't be able to replace a show next fall. However, when your expensive Sci-Fi drama isn't pulling down the numbers that The Hills is, it becomes harder and harder to justify shelling out the cash—whether it's replaceable or not.
Your Daily Blend of Entertainment News
Your Daily Blend of Entertainment News
Thank you for signing up to CinemaBlend. You will receive a verification email shortly.
There was a problem. Please refresh the page and try again.