Mike Rowe Says Dirty Jobs Has Been Cancelled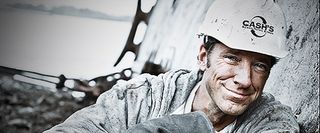 Mike Rowe's days of making us all grateful for our clean and cushy desk jobs are at an end. Discovery Channel's Dirty Jobs has reached its official end after 8 seasons of introducing viewers to some of the toughest, grossest, and most under-appreciated jobs in the nation.
Word came straight from the host himself, as Rowe blogged for the Huffington Post regarding the cancellation of his series. He addressed the rumors that make the rounds every year that the show won't be coming back, this time with the news that indeed, this is the end.
The show started out as a short segment on a CBS affiliate called Somebody's Gotta Do It , and Rowe had a dream of bringing the concept to a wider audience. After two years of trying, Craig Piligian of Pilgrim Films saw the segment, took it to Discovery, and the rest is history. Dirty Jobs was among the first of its kind in reality television, and has maintained its viewership fairly steadily over the years, largely due to the charisma and down-to-earth nature of its host.
Rowe doesn't offer the reasons for the cancellation, but admits he wasn't ready to announce it, taking time "to digest" the news before making it public. From the truly disgusting jobs involving feces from many species to the scary and dangerous gigs where Rowe must have wondered what on earth he was thinking, Dirty Jobs brought to light the jobs someone has to do, and the people who did them with good humor. It also resulted in the creation of the mikeroweWORKS Foundation, providing trade school scholarship and financial assistance for skilled laborers to obtain the tools they need. Rowe expressed his pride in the show and all of the people involved:
.
Your Daily Blend of Entertainment News
Thank you for signing up to CinemaBlend. You will receive a verification email shortly.
There was a problem. Please refresh the page and try again.