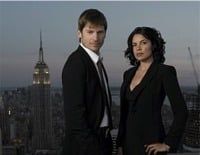 New Amsterdam
Starring:: Nikolaj Coster-Waldau, Alexie Gilmore, Stephen Henderson, Zuleikha Robinson
Created By:: David Manson, Lasse Hallstrom, Allan Loeb, Christian Taylor
Airs: Monday at 9 p.m. ET on Fox
"To be human is to die. To die is what makes life worth living." So sums up the central theme of this edgy show, about an NYC homicide detective named John Amsterdam (Nikolaj Coster-Waldau) who cannot die – because he's immortal.
John's immortality began some three centuries earlier, when he – a Dutch soldier at the time -- saved the life of a Native American girl by stepping in front of a sword during a massacre of her indigenous tribe. The girl, a shaman, then rescued Amsterdam, casting a spell that made him immortal until he found his one true love.
New Amsterdam was the name of New York City at the time, so John has basically seen the city grow from wilderness into a thriving metropolis, populated by all sorts of good and bad people. Now he's working as a homicide detective with the NYPD. His partner, Eva Marquez (Zuleikha Robinson), is no shrinking violet either. Fact is, she'd rather be in narcotics, and John might be able to help her with that goal.
But for now, they're investigating the death of a girl whose body was found in her friend's apartment. During a chase that takes John into the subway system, he suffers what appears to be a heart attack. The E.R. doc, Sara Dillane (Alexie Gilmore), declares him dead, and he's hauled away into the dead-body room.
But wait! Of course, he's not really dead. He awakes with a start and realizes that his "one true love" must have been in close proximity when he suffered the attack -- because the shaman told him he would feel it in his chest when she was near. Could it have been the E.R. doc? The previews tell us we'll see more of her in upcoming episodes.
At any rate, it's a feeling that leaves John utterly happy. "I almost died," he gleefully tells his jazz club-owner friend Omar, played with world-weary cynicism by Stephen Henderson. "I've been waiting centuries for this," says John. "If I can find her, it'll all have value." Yes, Omar knows John's secret, and also has a few of his own.
The truth is that John's a brilliant detective because he has three centuries of wisdom and life experiences rolling around in his brain. I think this show could go the distance because, like other Fox shows 24 and Prison Break, it's all about the characters and their relationships to each other. They're not exactly happy people, which makes us feel for them. During the homicide investigation, John reveals to Eva and the dead girl's mother that he, too, lost a child, a six-year-old son. "It's a pain without end," John says knowingly, thus gaining the mother's trust.
The clues also lead to a former lover, an artist who painted John's picture into a mural many years ago. "This guy kind of looks like you," says Eva, gazing at the mural under the paint they'd just chipped away from the wall. Little does she know.
With new programming at an all-time low, New Amsterdam could be a breakout show. It's gritty and edgy, with a groovy emo soundtrack and a main character who's lonely and burned out on connecting with other people. After all, everyone he gets close to grows old and dies, leaving him to start all over again. Let's just hope he doesn't find that one true love any time soon.
Your Daily Blend of Entertainment News
Thank you for signing up to CinemaBlend. You will receive a verification email shortly.
There was a problem. Please refresh the page and try again.