This Cancelled Moana Playset Footage Makes Us Really Miss Disney Infinity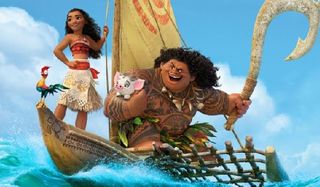 Disney Infinity may be gone, but that doesn't mean we can't take a peek at what the developer was working on before this toy box of fun was slammed shut forever. It turns out there was some Moana content planned and, sadly, it looked pretty great.
In case you've already forgotten what the heck Disney Infinity was, it was Disney's take on this whole toys-to-screen craze that catapulted Skylanders and, to a lesser extent, Lego Dimensions into success. We don't really include Nintendo's amiibo as part of this group, since their own little action figures are little more than glorified profile storage and DLC keys for various games.
In short, you've got a core game that becomes enhanced when you place a figure on a portal that's tethered to your television. With Dimensions, that frequently meant whole new chapters of gameplay would be unlocked by purchasing new playsets. With Skylanders, you usually just had the ability to make your latest toy show up in the game.
Disney Infinity took a route that was more like the Lego games, with new figures being playable in the game and frequently opening up their own little activities and the like. The key here is that Disney owns a whole bunch of rad properties, so you could have their own heroes playing around in the game world with characters from Star Wars, Marvel and Pixar. It was kind of like a more tactile version of Kingdom Hearts, only without Square Enix's characters or obscenely convoluted narratives.
Anyway, since Infinity went under several months back, some of the latest Disney properties never made it into the game despite the fact they were being developed. Once of the most notable heartbreaking absences was Moana, which we see in the footage above. Not only did we not get the rad-looking action figures for the game, but we missed out on some gameplay that looks pretty great, too. The focus of the video was Maui, who is able to use his godly powers to walk around the ocean floor and interact with the world around him.
The above footage comes to us from Infiniteer Adventures, who are promising more footage from the world of Moana in Infinity sometime in the future. Hopefully something featuring that titular character instead of her sidekick, yeah? Anyway, despite the fact that the playset was apparently still early in development, what's on display certainly looks really nice. More than anything, we're just bummed for the development team working on the Moana content. They had clearly already done a lot of work and things seemed to be coming along nicely.
Staff Writer for CinemaBlend.
Your Daily Blend of Entertainment News
Thank you for signing up to CinemaBlend. You will receive a verification email shortly.
There was a problem. Please refresh the page and try again.