Destiny Ghost Edition Pre-Orders Being Cancelled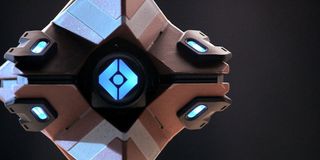 If you pre-ordered Destiny's Ghost Edition, keep an eye on your inbox. Some of these pre-orders are being cancelled due to a shortage of copies.
"Unfortunately, due to a supply issue, we will be unable to fulfill [your order]," reads the email sent out by Walmart to some customers (via NeoGAF). "We're sorry for the inconvenience this may cause. In order to ensure you receive your order, we would like to offer you a substitution with the Limited Edition, which is a comparable item."
The Destiny Ghost Edition is a $150 bundle that comes with several exclusive extras, like chrome slides, a patch and a letter of introduction. Its centerpiece is a replica of the Ghost, players' A.I. companion in the game. The Ghost replica lights up and plays audio from the game. I really hope it doesn't say the wizard line.
The Limited Edition is $50 cheaper but still comes with many key items from the Ghost Edition such as the DLC pass, field guide and star chart. You're missing out on the Ghost replica, though, so you'll have to find a different mantle piece. Walmart pre-order customers will get a $50 refund if they opt for the Limited Edition substitution.
Customers can cancel their order entirely, too. They just have to log into their Walmart account by August 29th and put in the request.
If you missed out on the Destiny Ghost Edition at Walmart, you'll have a rough time finding it elsewhere. It's currently sold out at GameStop (opens in new tab), Amazon (opens in new tab) and Best Buy (opens in new tab) as well. There's a chance that they'll get additional stock but all you can do in the meantime is sign-up for notifications at each store and wait.
The glut of Destiny pre-orders is due in part to the game's beta test. The closed test is currently being held on PS4, Xbox One, PS3 and Xbox 360. Unless you find someone willing to give you a spare key, you need to pre-order to get access to the beta.
While I'm sure some of these players are cancelling their pre-orders after the beta, a lot won't. Cowen and Company analysts are projecting Destiny to be the best-selling game of 2014. They think the game could sell 10 to 15 million copies - a damned impressive haul for a brand-new IP.
The beta is running until this weekend. Bungie plans to hold a special event on Saturday and give out a "permanent reward" to participating players.
This poll is no longer available.
Your Daily Blend of Entertainment News
Staff Writer at CinemaBlend.
Your Daily Blend of Entertainment News
Thank you for signing up to CinemaBlend. You will receive a verification email shortly.
There was a problem. Please refresh the page and try again.