Here's What The Call Of Duty Developer Had To Say About Battlefield 1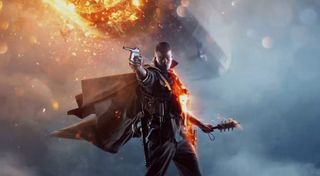 Despite having fanboys on either side of the titanic properties, Call of Duty and Battlefield, the developers of both franchises managed to put their rivalries aside to give praise to the latest games that have been unveiled. In this case, the Call of Duty developers gave a fedora tip to DICE's Battlefield 1 reveal.
Gamespot picked up the news from DualShockers, who collected a series of tweets from the Infinity Ward crew who showered the Swedish design studio, DICE, with praise for so many aspects of the reveal trailer, from the special effects to the facial rendering. Principal rendering engineer at Infinity Ward, Michal Drobot, commented on Twitter with the following message.
There was also a comment from Infinity Ward's own director of communications and PR, Eric Monacelli, who also chimed in to congratulate DICE and comment about how interesting the mechanics looked, stating the following on Twitter.
It was an interesting song choice... a cover of the White Stripes' "Seven Nation Army". It strangely fit with the thematic elements of the trailer, even though Battlefield 1 is set during World War I.
In addition to the Twitter comments, the official Infinity Ward account on Facebook also congratulated DICE on the reveal of Battlefield 1.
Funnily enough, while Infinity Ward have taken a more humble approach to the reveal of the competing shooter from DICE, the community have not been as lenient or gracious. The YouTube trailers for both games are polar opposites, with the Battlefield 1 trailer amassing 16 million views over the past couple of days with more than 840,000 likes, where as the Call of Duty: Infinite Warfare trailer has amassed 12 million views and more than 910,000 dislikes. It's quite telling when there are almost a million dislikes on the video. If that's any indication of what the sales trends will look like for the game, then it's not good for Activision or Infinity Ward.
There's still plenty of hype stops along the way to release, so expect a large portion of the community to warm (or chill) to Infinite Warfare as they find out more about the game at E3, and expect EA and DICE to make or break their own hype based on the multiplayer beta that's due to drop for Battlefield 1 ahead of the game's launch. For now we at least know that the Infinity Ward developers have a lot of respect for what DICE was able to pull off in-engine with their upcoming World War I shooter.
Battlefield 1 is due for release on October 21st for home consoles and PC while Call of Duty: Infinite Warfare will release on November 4th for home consoles and PC.
Staff Writer at CinemaBlend.
Your Daily Blend of Entertainment News
Thank you for signing up to CinemaBlend. You will receive a verification email shortly.
There was a problem. Please refresh the page and try again.