Alternate Hobbit Casting: See Stephen Colbert As Bilbo, Legolas, And Gandalf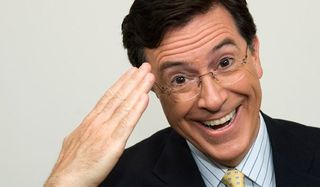 It is no secret that Stephen Colbert is a mega geek, particularly when it comes to the works of J.R.R. Tolkien. So it's not particularly shocking to find these fantastically epic photos of Colbert dressed as various members of The Hobbit cast. But that doesn't undercut just how awesome they are!
Colbert's Hobbit-inspired shoot will be released in a trio of Entertainment Weekly covers. It certainly does not take a great deal to convince Colbert to royally geek out over Tolkien characters, but Colbert's covers coincide with the magazine featuring an article Colbert wrote on the Tolkien fandom, and a Q&A between Colbert and Peter Jackson.
Colbert's mega-fan issue of Entertainment Weekly is coinciding with the release of The Hobbit: The Battle of the Five Armies, which hits theaters next weekend. The film will be the third and final installation in the Hobbit trilogy. More than that, it stands to reason that this will be our last Peter Jackson-led journey into Middle-earth. There certainly has been quite a few questions in the fandom if Jackson will create a movie adaptation of Tolkien's book The Silmarillion. However, because Tolkien's son, Christopher, is very vocally not a fan of Jackson's interpretations of his father's books, it seems highly unlikely that the Tolkien Estate will allow Jackson to touch Silmarillion. You never know, though.
As cool as all of these covers are, fans will note that this isn't the only time that Stephen Colbert has been given the opportunity to be a bigger part of the Tolkien world. In addition to this amazing spread, and hosting a Hobbit panel at San Diego Comic Con this summer, fans will also note that he actually snagged a cameo spot in The Hobbit: Desolation of Smaug. He is the one who knocks!
It's pretty obvious that Colbert had a blast shooting these covers. You can head over to Entertainment Weekly to check out a time-lapse video of Colbert getting into costume for his Gandalf, Bilbo, and Legolas covers. Colbert's issue with the three covers will hit newsstands this Friday, and be sure to catch The Hobbit: The Battle of the Five Armies when it hits theaters on December 17th.
Your Daily Blend of Entertainment News
Thank you for signing up to CinemaBlend. You will receive a verification email shortly.
There was a problem. Please refresh the page and try again.