Donald Glover And 11 Other Comedians Who Auditioned For Saturday Night Live And Didn't Make The Cut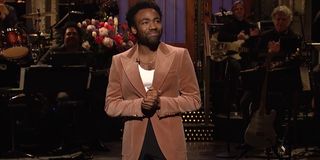 CinemaBlend is partnering with PIA VPN to bring you fresh content to stay in and stream with each day. We're also offering a special 76% discounted rate for a limited time only. You can sign up for the package with PIA here (opens in new tab).
Saturday Night Live has served as the jumping off point for countless comedians throughout the show's 45-year history, but just because someone doesn't make it on the show it doesn't necessarily mean their career is over. Do names like Donald Glover, Jim Carrey, and Aubrey Plaza sound familiar? Well, they should, as each of them became comedy superstars in the years following their failed SNL auditions.
Long before Donald Glover became a household name with Childish Gambino, from shows like Community and Atlanta, and as Lando Calrissian in Solo, he auditioned for a spot on the long-running sketch comedy series. And he's not alone. Over the years, some of the funniest names in show business didn't quite make the cut when trying to impress Lorne Michaels and yell the famous line, "Live from New York…" but that hasn't stopped them from becoming some of the most well-known comedians. Here are a dozen comedians who auditioned for Saturday Night Live and didn't make the cut.
Donald Glover
Donald Glover would become a star with his starring role in the NBC comedy Community, but the comedian, actor, writer, and musician was almost a member of a completely different show when he auditioned for a spot on Saturday Night Live in 2008. The how and why Glover didn't earn a spot still baffle a lot of people, including Glover, who made a joke of his two failed auditions when he hosted the show in 2018:
But don't feel too bad for Glover as he went on to have great success on television, in movies, and even in the music industry where he continues to the put out chart-topping records under his Childish Gambino moniker.
Aubrey Plaza
Aubrey Plaza was another future star in the making when she auditioned for a spot on Saturday Night Live in 2008. After being introduced to SNL at a very early age, Plaza told the Guardian that she always wanted to be on the show and did everything she could do in order to get there, which ultimately led to her interning on the program in 2005 and the auditioning in 2008.
And though she didn't make the cut, Plaza ended up securing a role in Judd Apatow's Funny People, which led to a role on Parks And Recreation, and the rest is history. In the years following her failed audition, Plaza has become one of the funniest actresses in film and television with her absurdly awkward and dark sense of humor.
Ellie Kemper
It seems like so many of the SNL hopefuls from the late 2000s would later go on to find success on other NBC programming, which is also the case for Ellie Kemper. Before the future star earned the starring role on The Unbreakable Kimmy Schmidt, Kemper found success on a little NBC show called The Office. You might have heard of it, but you never know.
During a 2018 appearance on Watch What Happens Live With Andy Cohen, Kemper revealed that even though she hasn't spoken to Lorne Michaels since her failed 2008 audition, she doesn't hold anything against him, stating:
Nick Kroll
Before he went on to star in The League and his own sketch comedy show, Kroll Show, and the Netflix animated series Big Mouth, comedian Nick Kroll was a member of the same auditioning class as his future collaborator John Mulaney back in 2008. During an interview on the Dan Patrick Show, Kroll revealed that he in fact had a memorable, yet extremely awkward interaction with Lorne Michaels, stating:
Kroll went on to say that everything worked out the way it should have because he ended up securing a role on The League the following year and became a comedy start shortly thereafter.
Stephen Colbert
Although not as shocking as his Saved By The Bell audition, The Late Show host Stephen Colbert also tried to join the cast of Saturday Night Live in 1996. Colbert was part of the round of auditions that would eventually lead to the Tracy Morgan getting a spot on the show. Colbert joked with Morgan about his failed audition during the former 30 Rock star's 2017 appearance on The Late Show, where Morgan revealed that he didn't remember the incident, stating:
According to Colbert, he and Morgan were both part of the same callback after the first round of auditions, but he was the odd man out. Colbert, however, would go on to briefly work on SNL, where he voiced Ace on the Ambiguously Gay Duo animated segments alongside Steve Carell. Colbert would go on to become a Daily Show correspondent before landing his own show, The Colbert Report, and then taking over for David Letterman on The Late Show in 2015.
Jim Carrey
Jim Carrey has gone on to host Saturday Night Live multiple times over the course of his career, but the Canadian comedian looked at earning a spot on the cast before he found great success in the 1980s. Even though Carrey didn't get the gig, he got one hell of a story out of it, as he explained at the 2018 New Yorker Festival (via Vulture):
Carrey would end up getting a spot on In Living Color a decade later, and was quickly catapulted into superstardom.
Kevin Hart
You wouldn't think it, but Kevin Hart had probably one of the most disastrous Saturday Night Live auditions in the history of the show. Before he went on to performing sold out shows at Madison Square Garden and headlining countless hit comedy movies, Hart tried his luck at the sketch comedy show. During a 2015 appearance on Conan, Hart explained why you shouldn't do an impression of a basketball player no one knows:
Zach Galifianakis
Years before he became a comedy superstar in The Hangover trilogy, Zach Galifianakis auditioned for Saturday Night Live, and got hired, but as a writer instead of a cast-member. During a 2019 episode of The Off Camera Show, Galifianakis explained that he didn't know at the time that he wouldn't actually be performing on the show, stating:
He would last a couple of weeks on the writing team before he moved on to other things. In the years following, the comedian has become a star in his own right and continues to provide laughs with his offbeat humor.
Paul Reubens
Paul Reubens is better known as the man-child Pee-wee Herman, but the world might not have ever gotten the oddball character if it weren't for the actor's failed Saturday Night Live audition in 1980. During the 2007 Sketch Fest (via SF Gate), Reubens revealed how hurt and outraged he was after being rejected, stating:
Lisa Kudrow
Before landing a gig on Friends, Lisa Kudrow auditioned for a spot on the cast of Saturday Night Live in the early 1990s, which the show's executive producer Lorne Michaels regrets rejecting all these years later, stating:
Kel Mitchell
Kenan Thompson has gone on to become the longest-running cast-member of Saturday Night Live after earning a spot on the show in 2003. Thompson's old comedy partner, Kel Mitchell, wasn't as lucky as his friend and All That co-star. Mitchell auditioned at the same time as Thompson way back when, but thanks to an awkward audition, he knew it was over as he explained during a Reddit Ask Me Anything session:
In the years following his disastrous audition, Mitchel has gone on to appear on the series Game Shakers as well as an All That reunion and Dancing With The Stars.
Jordan Peele
This final entry is quite different than the rest as Jordan Peele was offered a spot on Saturday Night Live in 2008, but he had to turn it down after Fox wouldn't release the future star of Key And Peele from his MadTV contract.
Peele told the Hollywood Reporter in a 2019 interview that the incident motivated him to not only act and perform comedy but to also start producing his own projects. Over the next 10 years, Peele started the successful sketch comedy show, Key And Peele, before becoming one of the most groundbreaking minds in the horror genre with films like Get Out and Us.
Those are just a few of the dozens of comedians who failed to impress Lorne Michaels of senior writers of Saturday Night Live. While the long-running sketch comedy series may be a fantastic jumping off point for a comedian's career, it's clearly not the only way a talented comedian can make a name for themselves, as evidenced by so many of the successful people we mentioned above.
Philip grew up in Louisiana (not New Orleans) before moving to St. Louis after graduating from Louisiana State University-Shreveport. When he's not writing about movies or television, Philip can be found being chased by his three kids, telling his dogs to stop yelling at the mailman, or yelling about professional wrestling to his wife. If the stars properly align, he will talk about For Love Of The Game being the best baseball movie of all time.
Your Daily Blend of Entertainment News
Thank you for signing up to CinemaBlend. You will receive a verification email shortly.
There was a problem. Please refresh the page and try again.