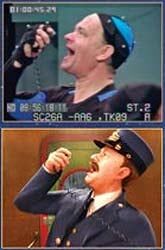 Following Titanic, it seemed impossible to get James Cameron out of the water as he spent years perfecting the art of underwater 3D filming (that's a little toughter than underwater basket weaving). Robert Zemeckis seems similarly obsessed with new actor-based 3D animation, the technique behind his recent holiday adventuere The Polar Express. According to various sources including Variety, his next project Beowulf will be the same type of film.
Robert Zemeckis is pulling together quite a cast for his Beowulf. Instead of casting Tom Hanks as everyone to show off his motion-capture technology, Zemeckis is spreading the wealth around. Ray Winstone, who most recently also lent his voice for Mr. Beaver in the upcoming The Lion, The Witch and The Wardrobe will give voice and movement to Beowulf. Back to the Future and Willard star Crispin Glover plays Grendel. Slightly more well known actors are beginning to fill in the movie's dance card, including Anthony Hopkins, Robin Wright Penn, Brendan Gleeson and Angelina Jolie.
The script was written by storytelling team Roger Avary and Neil Gaiman. While Avary has much to prove (his recent writing/directing effort The Rules of Attraction is rumored to actually kill brain cells faster than alcohol or drugs), Gaiman is a solid, if not eccentric, tale weaver whose style is perfectly matched to the ancient, epic nature of "Beowulf".
While soulless children riding a phantom train to see Santa may have been a slightly creepy application of 3D animation technology to the dark, ancient story of "Beowulf" seems a much better fit. Like Polar Express, I suspect the best way to see Beowulf will be in its full glory: 3D IMAX. I personally can't wait. But we'll all have too. The movie isn't slated for release until 2007.