Darren Aronofsky Bails On Sexy Spy Thriller Red Sparrow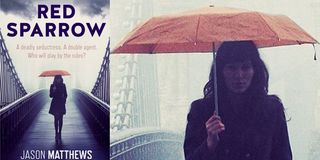 With his biblical epic Noah now in postproduction, celebrated director Darren Aronofsky is readying for a follow-up, but the 20th Century Fox spy thriller Red Sparrow has been dropped from his dance card.
THR reports that after months of negotiations on the in-development thriller, Aronofsky has walked away from the table. He's now looking elsewhere for his next project. Despite this setback, Fox is still enthusiastic about Red Sparrow. The next step for the studio, which is teaming with Chernin Entertainment and Film Rites for this production, is to find a screenwriter to pen the script.
Based on the novel by Jason Matthews, Red Sparrow will center on a reluctant spy named Dominika Egorova. A former ballerina whose career ambitions were smashed with a fateful injury, she is now a "sparrow," an intelligence officer working for President Vladimir Putin. Trained in the arts of espionage and seduction, Egorova is assigned to uncover the identity of the Russian agency's mole. In her investigation, she meets Nathaniel Nash, a young--and presumably handsome--CIA officer who is believed to be the mole's handler. An undeniable passion sparks between the two spies as the battle from Russia, to Finland, Greece, Italy, and the United States in this whirlwind thriller.
Aronofsky was first mentioned in connection with Red Sparrow last summer, at the time it seemed possible he might contribute to the script as he has for past directorial efforts like Noah, Pi, Requiem For a Dream, and The Fountain. But this latest report suggests no draft is officially in the works just yet. Perhaps Red Sparrow producer Steve Zaillian might consider penning the pic? Aside from producing credits on crime dramas like American Gangster and The Girl With the Dragon Tattoo, he's also got noteworthy screenwriting credentials, including penning the adapted screenplays for Schindler's List, Clear and Present Danger, Moneyball, and American version of The Girl With the Dragon Tattoo. He seems a good fit for the material, doesn't he?
Fox bought the rights to Matthews' Red Sparrow for seven-figures, so they clearly feel this is a bankable property. The importance of getting this project right might be slowing things down in a way that doesn't appeal to Aronofsky, forcing him to walk away. But THR notes this might just be for now. Once a script is in place, it's possible Fox will once more approach Aronofsky. After all, trusting in his artistic vision earned them $329 million worldwide and a major Oscar win for their last dance with him, Black Swan. It's good to know that even after he bailed on The Wolverine, Fox is still eager to continue their collaboration with this rightly heralded helmer.
While we wait for all this Black Sparrow business to shake out, at least we have Noah to look forward to. Check out its trailer below.
Noah opens March 28th.
Staff writer at CinemaBlend.
Your Daily Blend of Entertainment News
Thank you for signing up to CinemaBlend. You will receive a verification email shortly.
There was a problem. Please refresh the page and try again.