Here's The Movie Characters Making Out Supercut You Need In Your Life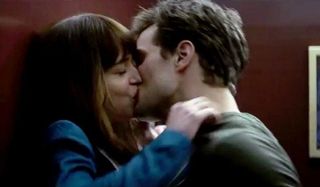 Valentine's Day is just around the corner, and to celebrate this most sacred of romantic holidays we have a supercut that has been created to feature an array of kisses from over 100 movies. You can watch the clip to get in the mood for Valentines below.
Can you feel the love? Movieclips' montage is a rather delightful homage to some of the most romantic moments in cinematic history. My personal favorites include little tip of the hats to Gone With The Wind, American Beauty and Arsenic And Old Lace. I mean, who doesn't love seeing Cary Grant having a kiss? However, they all actually pale in comparison to Cinema Paradiso's mesmeric kissing montage - which is poignant enough to make even the most heart-broken soul believe in love again. Check it out here. Warning, you'll almost certainly start to weep while watching it though.
Movieclips didn't just celebrate the famous and most passionate kisses to have ever been committed to celluloid. It also included lip locking scenes from The Brady Bunch Movie, BASEketball, The 40 Year Old Virgin and Superbad too. The idea behind the making of this movie was clearly to find loving lip-locking from a wide variety of courses, and in that mission they found success.
That being said, I do find it more than bizarre, and in fact borderline offensive, that there wasn't room for possibly the most romantic scene in modern movie history: Adam Sandler and Emma Watson's smooch in Punch Drunk Love. I mean surely, that clip could have been used instead of scenes from But I'm A Cheerleader or Albert Nobbs! In fact, I will take it upon myself to celebrate the aforementioned duo's adorable kiss in Paul Thomas Anderson's zesty romantic-comedy. Enjoy.
This supercut came together to celebrate the impending release of Fifty Shades Of Grey, which will finally hit cinemas on Friday. And while we can all understand why the website is looking to take advantage of the popularity of the most-eagerly anticipated R-rated film in recent memory, it should also be noted that Fifty Shades Of Grey is a preposterously unromantic movie. But don't expect that to stop audiences going to see Sam Tayor-Johnson's adaptation of E.L. James' novel in their droves. In fact, Fifty Shades Of Grey is expected to take in between $60-$80 million over its opening weekend, and Universal are already so confident of the franchise's success that they've ordered two sequels before its even hit cinemas. We'll see how it all pans out.
Your Daily Blend of Entertainment News