The Hobbit Casts Luke Evans As Bard The Bowman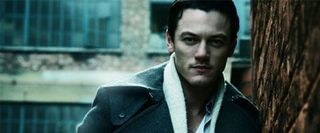 When we first started hearing word that The Hobbit would be split into two movies, and that a lot of ancillary characters and material would get an expanded place in the story, as a fan I naturally assumed that meant they'd be doing a lot more with Bard. But the movie has been filming in New Zealand for weeks now and, they've only just got around to casting the character.
Luke Evans has been cast to play Bard, heir to the kingdom of Dale and a skilled archer who defends his town against Smaug. Later he ends up involved in one those epic, mega-sized Tolkien battles we loved so much in the Lord of the Rings films. Deadline insists that even though he's sort of a last minute casting they still plan on expanding the character's role, and I guess that makes sense assuming they're shooting the film linearly. Bard and the people of Dale don't really show up until the latter half of the story, so I guess we shouldn't be surprised that they haven't needed anyone to play the character until now.
If you're looking for a Aragorn son of Arathorn style figure to latch on to in this new Hobbit movie, Bard is likely to be it. Unless of course, you find Dwarves sexy. They do have those beards going for them. Some girls like beards.
Luke Evans was last seen playing a generic thug in Russell Crowe's Robin Hood. He'll have a bigger role in Immortals when that's released later this year, since he's playing Zeus. You can also catch him in the upcoming Paul W.S. Anderson version of The Three Musketeers, wielding a sword as Aramis.
Your Daily Blend of Entertainment News
Thank you for signing up to CinemaBlend. You will receive a verification email shortly.
There was a problem. Please refresh the page and try again.