The Hobbit And Life Of Pi Lead Saturn Award Nominations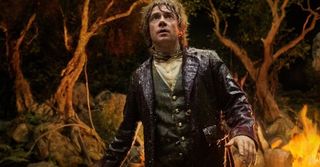 It's famously difficult to get a sci-fi or fantasy film any major Oscar nominations, with the Lord of the Rings trilogy standing out as the one massive exception. But that's where the Saturn Awards can come in. The awards handed out by the Academy of Science Fiction, Fantasy and Horror Films, the Saturns find a way to honor the best in genre every year, and this year they've produced a list of nominees with a huge range-- and more than a few Best Picture nominees in the mix, as well.
And given how many awards they hand out, they manage to nominate just about everything you'd hope for either-- there are four top categories for films, with Best Fantasy, Best Science-Fiction, Best Action/Adventure and Best Horror getting their due. Making their way on those lists are Best Picture nominees Les Miserables, Django Unchained, Life of Pi, Zero Dark Thirty and Argo, along with films that received non-Best Picture nominations, like The Hobbit: An Unexpected Journey, The Avengers, Snow White and the Huntsman, The Impossible and Skyfall. They'll all be competing against movies that never stood a chance at the Oscars, like Taken 2, The Cabin in the Woods and Ruby Sparks. Such is the magic of the Saturn Awards.
The Hobbit led the pack with the most nominations at nine, and Life of Pi and Skyfall came in right behind it, with eight and even, respectively. According to The Hollywood Reporter the date and location for the awards will be announced in the coming weeks. For the full list of nominees, you can click here.
Staff Writer at CinemaBlend
Your Daily Blend of Entertainment News
Thank you for signing up to CinemaBlend. You will receive a verification email shortly.
There was a problem. Please refresh the page and try again.