The Hobbit Screenwriter Reveals A Story Recycled From Lord Of The Rings For A New Hobbit Character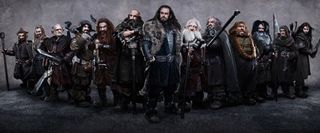 The posters for The Hobbit: An Unexpected Journey boast more facial hair than a mustache contest, and with all the hearty drinking, singing and sword fighting, the original The Hobbit is one of the most male-dominated works of literature ever. But when it came time to bring The Hobbit to the screen, there were two women who started off the process of adapting it, and writers Philippa Boyens and Fran Walsh (working alongside Guillermo del Toro at first and then Peter Jackson) weren't about to let this massive adventure story remain an all-boys club.
That included a brief inclusion of Cate Blanchett's Galadriel in An Unexpected Journey to bring some "feminine energy," according to Boyens, but also the even bolder step of inventing an entirely new character. Evangeline Lilly's warrior elf Tauriel doesn't appear in An Unexpected Journey, but when I spoke to her last week Boyens said to expect a strong presence from her in the upcoming The Desolation of Smaug and There And Back Again-- and that hardcore Tolkien fans might recognize her story.
According to Boyens, "There was a story that both Fran and I loved in The Lord of the Rings that didn't make it into the film," and when it came time to writer The Hobbit the screenwriters realized they could take that story and reshape it as Tauriel's. When I asked her which story she wasn't sharing any further details, but allowed that fans of the original books will recognize the story-- and promised me "Wait until you see Evangeline Lilly. She is an elf."
So what story have Boyens and Walsh recycled for a new life in The Hobbit? And will that familiar tale help fans embrace newcomer Tauriel when she appears in the next two Hobbit films? Let us know your speculation in the comments, and keep coming back for much, much more from the people behind The Hobbit: An Unexpected Journey.
Your Daily Blend of Entertainment News
Staff Writer at CinemaBlend
Your Daily Blend of Entertainment News
Thank you for signing up to CinemaBlend. You will receive a verification email shortly.
There was a problem. Please refresh the page and try again.