James Franco To Adapt Cormac McCarthy's Child Of God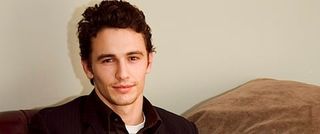 James Franco's dance card is filling up rather quickly these days. He's lined up a wide array of projects like Oz: The Great and Powerful, Jay and Seth vs. The Apocalypse, and possibly even the biopic Lovelace just to name a few. Now, We Got This Covered is reporting that Franco will be adding another directing gig to his resume in the form of a Cormac McCarthy adaptation. Franco announced at TIFF that he would be helming a big screen version of McCarthy's third book Child of God.
The plot of Child of God revolves around a troubled protagonist, Lester Ballard, who drifts further and further away from normal society and basically becomes a violent cave dweller. Throw in a compressed air cannon and this guy sounds a bit like Anton Chigurh, doesn't he? Is Franco hoping to recapture some of the No Country for Old Men magic and/or critical acclaim? Is he eager to be recognized as much for his directorial prowess as his acting? It sounds like a stretch to assume so, but his attachment to this novel was a bit haphazard.
Franco initially wanted to adapt McCarthy's novel Blood Meridian. In fact, he had gone so far as to shoot a 20-minute test of that film and was quite pleased with the result. But it appears that project has been put on indefinite hold so Franco has switched gears to Child of God. So why is he so desperate to adapt McCarthy? It seems there are two probable explanations. Either Franco is hoping to use the author's stellar writing to garner some recognition for his directing work or he may just be Hollywood's biggest Cormac McCarthy fan. The latter explanation instills far more confidence in this project than the former.
No word yet as to when principal photography or even casting will begin for Child of God. Franco just completed his last directorial effort, Sal, a biopic of actor Sal Mineo.
Your Daily Blend of Entertainment News
Thank you for signing up to CinemaBlend. You will receive a verification email shortly.
There was a problem. Please refresh the page and try again.