Kate Bosworth's Blue Crush Surfing Towards A Sequel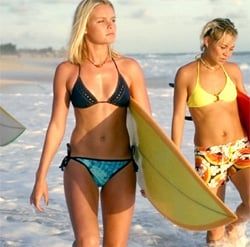 Universal Pictures is working on a sequel to a movie from eight years ago that almost no one saw and even fewer. Production Weekly says they're moving forward on Blue Crush 2 with plans to film it late May in South Africa.
The original Blue Crush starred Kate Bosworth as a bodacious surfer babe riding waves to the sounds of Swedish pop music, finding romance, and hanging out with her best friend played by Michelle Rodriguez. And you know what? It didn't suck. The plot was pretty shallow and ridiculous but the cast was great and the film was visually stunning, featuring some of the most eye-popping, brightly colored surfing footage ever seen on screen. And while it only made around $50 million worldwide, it only cost $25 million which means Universal turned a tidy profit.
So maybe it would have made sense to do some sort of sequel back in 2003, but now it just feels sort of pointless. It's not like Blue Crush is a brand name that's going to bring in an audience. The time to do this was seven years ago, if at all. Maybe they were waiting for Kate Bosworth's star to fall, so they could snatch her up cheap and put her into a bikini. After Blue Crush she seemed on the cusp of becoming the next big thing, but she peaked with Superman Returns in 2006 and since then the former surfer girl's career has gone nowhere. No word yet on whether any of the original cast is involved, but you'd think if they want Bosworth, they'd be able to get her. It's not like she's doing anything else.