Moses Would Be Branded As A Terrorist Today, According To Christian Bale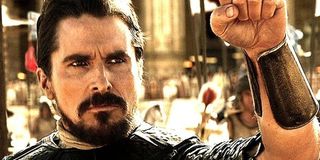 Christian Bale has revealed that if Moses was still around today, he would be regarded as a terrorist. The Welsh actor made his remarks ahead of his performance as the prophet in Sir Ridley Scott's hugely anticipated epic, Exodus: Gods and Kings.
As you'd expect from the rather intense but preposterously talented thespian, Christian Bale conducted a lot of research in order to prepare for the role. Speaking to Nightline [via ABC News], Christian Bale revealed that through this process he figured out that if Moses was around today, he would probably be regarded as a terrorist.
Christian Bale, who picked up an Academy Award for his superb work in The Fighter, even went on to explain that if Moses was up to his old tricks in the current climate, then the government would instantly be barraging him with drones.
Exodus: Gods And Kings has generated plenty of attention before it has even hit the big screen. And not all of it has been good. When the trailer premiered a couple of months back, people started to get very excited about the blockbuster. It looked as though the combination of Ridley Scott and Christian Bale would deliver in spades as the clips ramped up the epicness and spectacle. It has actually been quite a while since Sir Ridley has delivered a bona-fide hit. While American Gangster and Robin Hood possessed moments of greatness, they weren't flawless like Gladiator, Blade Runner and Alien. While the less said about A Good Year, Body Of Lies and Prometheus the better.
There was also widespread criticism of the film thanks to the casting of four white actors to play the lead roles of Moses, Ramses II, Queen Tuya and Joshua. This is despite the fact that the film is set in ancient Africa. A small but frenzied boycott of Exodus: Gods And Kings was even called for. Twitter users even took to the website and orchestrated a hashtag protest. Meanwhile this hasn't been the only controversy regarding the film. Ridley Scott's declaration that he looked to natural causes to explain the miracles and Christian Bale's revelation that Moses was schizophrenic and barbaric were both met with objection.
But despite all these issues there is still a feeling that Exodus: Gods And Kings will prosper when it hits cinemas on December 12. And fingers crossed it also reminds the world just how potent a filmmaker Ridley Scott can be along the way, too.
Your Daily Blend of Entertainment News
Thank you for signing up to CinemaBlend. You will receive a verification email shortly.
There was a problem. Please refresh the page and try again.