Orlando Bloom's Pirates Of The Caribbean Replacement Found?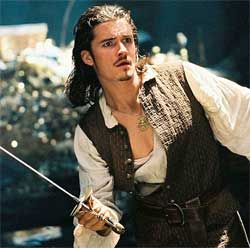 So we know for certain now that Orlando Bloom won't be involved in the next Pirates of the Caribbean film and since left to his own devices Captain Jack Sparrow is kind of, well, grungy, Disney is looking for a new heartthrob to replace Will Turner. Eonline says two guys are currently in line to fill Bloom's boots and their names are Max Irons and Sam Claflin.
Both actors are relative unknowns. Here's what E has to say about them:
Far less likely to be cast in the young heartthrob role is Stephen Graham, whom Production Weekly says is in talks to join Pirates of the Caribbean: On Stranger Tides as a character named "Scram". Sounds like a piratical scallywag to me.
Your Daily Blend of Entertainment News