Read The Star Trek 3 Director's Hilariously Pretentious Response To The Shatner Rumor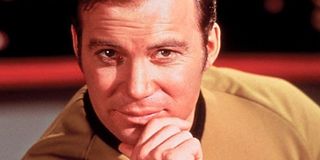 William Shatner will appear in Star Trek 3 as James Tiberius Kirk … we think. The internet has been awash with rumors this week that the legendary actor would cameo alongside Leonard Nimoy in the next installment to the beloved sci-fi series, but today both Roberto Orci and Shatner have released cryptic comments that have left his inclusion up in the air.
According to Trek Movie, writer/director Orci left a comment in their comments section responding to speculation that Shatner would beam on-board for Star Trek 3, and his remark, which was lifted straight out of Star Trek II: The Wrath Of Khan, was seen by some people as confirming the cameo. It read, "love no win scenarios. In theory, damned either way." However, Orci wasn't done flirting around the discussion about Shatner's return, so he added a more in-depth comment that only managed to confuse the scenario even further:
So where does that leave us? Orci's comments suggests that even he isn't 100% sure that Shatner will make it into the film's final edit, which basically means that the beloved Canadian thespian is twisting in the wind until the filmmaker makes up his mind. It's possible that Orci - who co-wrote 2009's Star Trek and its follow-up, 2013's Star Trek Into Darkness - has included the original Captain Kirk in his screenplay, but doesn't want to get fans hopes up just in case he decides to edit him out before, during, or after filming.
If it did transpire in this fashion, it would be very similar to what went down between Shatner and J.J. Abrams before the Star Trek reboot. Shatner pined to be involved in both of the new additions to the franchise, especially since his old buddy aboard the Starship Enterprise, Leonard Nimoy, had been invited to portray Spock again. Ultimately, Abrams decided that it would be a sin to simply shove Shatner into the franchise for the heck of it - a decision that the actor wasn't too fond of. Over the next few years he made several stinging remarks about his lack of involvement, but this was eventually cleared up several years ago. Plus, Orci himself has previously declared that he would love to find a way for Shatner to be included. Whether he actually does bring him in for Star Trek 3 remains to be seen. With or without his presence, the film will be released in 2016.
Your Daily Blend of Entertainment News
Thank you for signing up to CinemaBlend. You will receive a verification email shortly.
There was a problem. Please refresh the page and try again.