Sam Worthington And Jeffrey Dean Morgan Hunt A Kidnapper In Trailer For Texas Killing Fields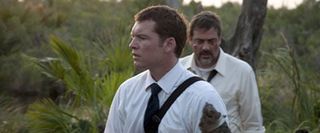 Hopefully you haven't had your fill of Sam Worthington just yet because he doesn't seem to be slowing down. He'll be joining vigilante heroes Jeffrey Dean Morgan--The Comedian from Watchmen--and Chloe Grace Moretz, more easily recognizable as the purple haired ass kicker Hit Girl from Kick Ass, in Texas Killing Fields, which is set to premier at the Venice Film Festival in September and then hit theaters in October.
A new trailer has arrived showing off just how gritty this film will be. Set on the backdrop of a balmy mid-summer Texas, we follow two cops, Worthington and Morgan, who follow a case into the nearby oil fields dubbed "the killing fields", where bodies are regularly dropped and frequently never found. When a local girl (Moretz) goes missing, the two detectives do everything they can to find her and save her life. Check out the trailer below.
The trailer feels like what Seven would look like if you spilled a bucket of paint on it. It's certainly more colorful and there's slightly less rain, but ultimately there's a crazy killer on the loose and there's two cops trying to find him before more people die. It's Seven in the south.
That however doesn't mean it doesn't look great. Jeffrey Dean Morgan is a great actor who unfortunately isn't getting quite as many big roles as I'd like, so seeing him in this alongside one of the top stars currently working is a big bonus. While Texas Killing Fields could easily turn into a really plain murder mystery, director Ami Canaan Mann (daughter of legendary Michael Mann) seems to have created a style for herself and delivered a suspenseful look into southern law enforcement.
Your Daily Blend of Entertainment News