Slumdog Kids May Work With Sir Anthony Hopkins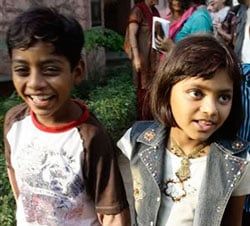 There will be life after Slumdog for youngsters Rubina Ali and Azhar Ismail. As reported by PR-inside, the two have signed on to join the cast of Lord Owen's Lady. The film will be shot in Wales and India and tell the story of a Welsh nobleman who falls for an Indian girl.
Ali and Ismail could get their first taste of working with a Hollywood legend because Sir Anthony Hopkins is in negotiations to play Lord Owen's father. Many involved in Slumdog Millionaire have become household names since the film skyrocketed to fame, but working with Hannibal himself is a different story.
The kids are probably thrilled to continue working on their acting careers but, sadly, the news comes amidst a tragedy for Ismail. His father passed away of tuberculosis on Friday. The film's executive producer, Martin Pennell, is well aware of the situation and told Britain's The Sun, "It is very sad, but it was his dad's desire for him to play a part in the film."
Your Daily Blend of Entertainment News
Staff Writer for CinemaBlend.