Tinker Tailor Soldier Spy Gets A Post-Oscar Blu-Ray Release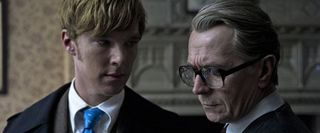 With Gary Oldman's Oscar nomination for Best Actor, as well as two other nominations under Tinker Tailor Soldier Spy's belt, the film has finally earned a little more well-deserved buzz. Based on the novel by John Le Carré and directed by Tomas Alfredson, Tinker Tailor Soldier Spy is finally making the rounds at some smaller American theaters, but even if it hasn't come to your area, you will not have too long to wait. The movie is scheduled to hit Blu-Ray, DVD, and On Demand on March 20.
While it's a bit of a shame we won't be privy to an earlier release, Universal Studios Home Entertainment is likely hoping to be able to splash a couple of Oscar-winner stickers on the box. With such a sick cast to back up the film, it doesn't really need any wins to seem impressive. Tinker Tailor Soldier Spy features Oldman, Colin Firth, Tom Hardy, John Hurt, David Dencik, Ciarán Hinds, and Benedict Cumberbatch, with a nearly unrecognizable hair-do.
If you're interested in purchasing the film in March, the Blu-Ray will feature the most extensive list of extras, including pocket BLU and BD-Live access. The most extensive features on the Blu-Ray are a set of interviews featuring Oldman, Firth, Hardy, Alfredson, original book writer John Le Carré and screenwriter Peter Straughan. The Blu-Ray will also feature a "First Look" segment about the film, as well as deleted scenes. DVD copies will merely come with all of the interviews, sans the one with Le Carré. You can pre-order the title over at Amazon.