Vanity Fair's Hollywood Cover: Half-Naked Olivia Wilde, Robert Duvall In A Corner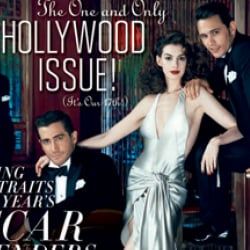 I enjoy the hubbub of Oscar season more than most people, I'll admit, but I don't think I'm alone in looking forward to the annual Vanity Fair Hollywood issue, hitting every February in the thick of Oscar season, with an artfully photographed cover image that is always designed to get attention, whether for allowing Tom Ford to weirdly seduce naked Scarlett Johansson and Keira Knightley or simply collecting a huge number of talented young actresses. You never quite know that they're going to do from year to year, and with this year's cover, they've both returned to their classic format and done something somewhat unique and bizarre.
In the cover preview that VF posted on their website you can see the full sprawling photo, featuring 15 actors of both genders, and in age ranging from 20-year-old Jennifer Lawrence to 80-year-old Robert Duvall. And though the covers have always featured a bizarre range of A-list stars, up-and-comers and a grab bag of Oscar nominees-- my friend Nathaniel Rogers did a great retrospective of the covers over at The Film Experience if you want to look back-- this year's collection seems especially strange. I guess Olivia Wilde is a reasonable rising star to include, especially if she's willing to wear only half a dress, but how did her Tron: Legacy co-star Garrett Hedlund also sneak in? I love Rashida Jones as much as the next person, but how'd she wind up in there alongside people who mostly do film work? And is Robert Duvall photoshopped in there, or did they really just jam him in a corner like that? According to the behind the scenes tale, the photo is actually from two separate shoots in New York and LA, so there's at least some trickery going on.
So many questions, but as always, the cover has managed to get my attention, which is pretty much its main goal each year. Click on the image below for the high-res version at VF, and join me in speculating the who's and whys in the comments.
Staff Writer at CinemaBlend
Your Daily Blend of Entertainment News
Thank you for signing up to CinemaBlend. You will receive a verification email shortly.
There was a problem. Please refresh the page and try again.