Weekend Box Office: Focus Banks Blurry Number One, American Sniper Just Misses The Mark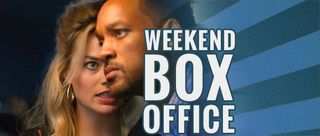 It was rough going this weekend for Will Smith's latest offering. Although the movie came in at number one, that was due to the slowness of the February box office doldrums than a massive audience turn out.
At $19 million, Focus isn't the worst debut for a Smith headliner, but is more in line with his more thoughtful dramas like Seven Pounds or Ali rather than his thriller and action flicks which usually clear $40 million on opening weekend. Even the train wreck that was After Earth managed to open at $27 million.
Horror films are almost always bankable, what with fake blood and bad acting always being cheap commodities in the Hollywood market. Even though The Lazarus Effect only made $10 million for a fifth place opening, the movie has already tripled its dirt cheap $3 million production budget.
Thanks in no small part to Julianne Moore's Oscar win for best actress, Still Alice got a numbers bump from less than 800 venues to just over 1300. That was enough to push it to $2 million this weekend and the number nine spot, the first time in its seven week run that it's hit the top ten.
American Sniper fell just short of breaking past The Hunger Games: Mockingjay - Part 1 and Guardians of the Galaxy to become the highest grossing movie of 2014. It ended the weekend with $331 million, just $5 million shy of the year's highest. That now inevitable moment will likely hit next Friday, but certainly by next weekend.
For the full top ten, check out the chart below:
1.
Focus (2015) *

$19,100,000Total: $19,100,000LW: N
THTRS: 3,323
2.
Kingsman: The Secret Service

$11,750,000Total: $85,696,000LW: 2
THTRS: 3,282
3.
The SpongeBob Movie: Sponge Out of Water

$11,200,000Total: $140,322,000LW: 3
THTRS: 3,467
4.
Fifty Shades of Grey

$10,927,000Total: $147,764,000LW: 1
THTRS: 3,383
5.
The Lazarus Effect *

$10,600,000Total: $10,600,000LW: N
THTRS: 2,666
6.
McFarland, USA

$7,797,000Total: $21,981,000LW: 4
THTRS: 2,765
7.
American Sniper

$7,700,000Total: $331,108,000LW: 6
THTRS: 2,914
8.
The DUFF

$7,150,000Total: $20,053,000LW: 5
THTRS: 2,622
Swipe to scroll horizontally
9.
Still Alice
$2,695,000
Total: $11,984,000
LW: 11
THTRS: 1,318
10.
Hot Tub Time Machine 2

$2,400,000Total: $10,268,000LW: 7
THTRS: 2,901
Your Daily Blend of Entertainment News