The Top 10 Pirated Movies Of 2015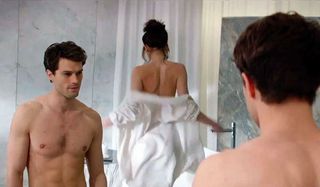 In the internet age, piracy has become a significant part of the movie industry, with studios and different organizations regularly trying to find ways to stop the spread of illegal copies of feature films. As much effort as there's been, however, still just about every major blockbuster finds itself being downloaded millions upon millions of times. But what title was downloaded the most in the year 2015? We now have the answer.
Variety has published a list of the most pirated movies of the year, and while titles like Inside Out, Minions and San Andreas failed to make the Top 10, you will certainly recognize all of the films. What got the number one spot? Read on and find out.
10. Kingsman: The Secret Service
Matthew Vaughn's Kingsman: The Secret Service was a significant surprise when it came out earlier this year. The R-rated comic book movie took on Fifty Shades of Grey the weekend of Valentine's Day, and it still managed to be a box office and critical hit. Unfortunately, this success also gave it a lot of attention on the downloading front. Edging out the Will Smith/Margot Robbie thriller Focus by about four million downloads, the spy film was stolen 30,922,987 times before the end of 2015.
9. Terminator: Genisys
Audiences here in the United States weren't ultimately too jazzed about the idea of going to see a brand new Terminator movie in theaters – with the film ultimately making only $89 million here at home – but evidently people were curious enough about it to illegally download a copy. Squeaking into the top 10 on this year's list, Terminator: Genisys was stolen about 31,001,480 times. If the blockbuster does eventually get a sequel, it will be interesting to see how the numbers compare.
8. The Hobbit: Battle Of The Five Armies
Strangely, over the three years of release, The Hobbit movies slowly moved further and further back on this annual list. The Hobbit: An Unexpected Journey was the most pirated film back in 2013, The Hobbit: The Desolation of Smaug was ranked at number four, and now The Hobbit: Battle Of The Five Armies is positioned at number eight. What's even stranger is that with a total of 31,574,872, the most recent film was far and away the one that was illegally downloaded the most.
7. Fifty Shades of Grey
Sam Taylor Johnson's Fifty Shades of Grey inspired a great deal of curiosity amongst movie-goers – with people wondering exactly how far the sexual content would go – but obviously there were some people out there who didn't want to actually go out to a theater and see the movie in public. This could be one explanation for the film's high illegal download score, as the movie was stolen a grand total of 32,126,827 times, according to trade sources.
6. American Sniper
Clint Eastwood's American Sniper is technically a 2014 movie, but it didn't actually start a stir until it saw its theatrical release expand last January. Going from four theaters nationwide to 3,555, the movie became a massive hit, and ultimately made nearly $550 million worldwide. Despite the film not being a franchise blockbuster, the buzz had an effect on the torrent world as well. When all was said and done, American Sniper was downloaded a grand total of 33,953,737 times.
5. Mad Max: Fury Road
If there was any movie this year that truly demanded to be seen on the biggest screen possible, it was George Miller's Mad Max: Fury Road. The action and the color just pop in the most spectacular way… but apparently people were just fine watching it on their computer monitors. When the tabulations were finished, the action film was illegally downloaded a total of 36,443,244 times. It's a real shame, but I'm hoping that a good percentage of those people went to go see the movie at least once during its theatrical release.
4. Jurassic World
Before Star Wars: The Force Awakens rolled around, it was Colin Trevorrow's Jurassic World that was the real cock of the walk in 2015 – breaking The Avengers opening weekend record and establishing itself as the third most successful film of all time. As you would imagine, this led to a hefty number of illegal downloads – the movie winding up with a score of 36,881,763. Obviously its position as a mega blockbuster made it a perfect candidate for this list, and we fully expect to see all sequels make this list in the future as well.
3. The Avengers: Age of Ultron
As you would expect, Marvel Studios movies have a good amount of annual history landing on this list. A few years ago it was Iron Man 3; in 2014 it was both Thor: The Dark World and Captain America: The Winter Soldier, and now it's The Avengers: Age of Ultron (with 41,594,159 illegal downloads). You'll notice that Ant-Man didn't make the Top 10 this year, but it's always possible it could wind up ranking next year.
2. Furious 7
This past year saw many hits come and go from theaters, but James Wan's Furious 7 was one of the first to arrive. Playing on the big screen back in April, the film set the box office on fire early in 2015… but that also means that pirates had a long amount of time to find it. To date, the film has been downloaded an impressive 44,794,877 times. It's a big number, but not big enough for number one…
1. Interstellar
It's kind of strange, but the film that was illegally downloaded the most times in 2015 wasn't even a film that came out this year. Instead, it's actually Christopher Nolan's Interstellar with a total of 46,762,310. The movie didn't actually rank last year (having just been released theatrically in late November and released on home video early in 2015), but the number of downloads is 15 million higher than last year's list topper: Martin Scorsese's The Wolf of Wall Street. What does that say about movie piracy in 2015? I'll leave that for you guys to discuss in the comments below.
NJ native who calls LA home; lives in a Dreamatorium. A decade-plus CinemaBlend veteran; endlessly enthusiastic about the career he's dreamt of since seventh grade.
Your Daily Blend of Entertainment News
Thank you for signing up to CinemaBlend. You will receive a verification email shortly.
There was a problem. Please refresh the page and try again.