Weekend Box Office: Third Iron Man Takes First Place With Second Largest Ever Debut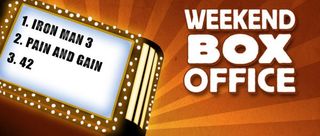 After the rest of the world had an entire week to revel in the critically acclaimed Iron Man 3, this weekend Americans finally had their chance. While they turned out in horde-like droves, resulting in the biggest weekend at the box office so far this year, Iron Man fell short of being able to do alone what he had achieved with fellow Marvel characters in last summer's Avengers: break the record for biggest opening weekend.
Not that Iron Man 3 has any reason to be disappointed. With $175 million it was not only number one with a bullet and the second highest opening of all time (safely behind The Avengers' $207 million debut), it's a massive leap from Iron Man 2's $128 million. If this is to be the last stand-alone Iron Man film, the super hero is set to go out on one heck of a high note.
Most top ten movies dropped sharply in the blockbuster's shadow, but a few actually gained some ground, an unusual feat. Oz The Great and Powerful had dropped clean out of the top ten but this weekend, despite losing almost a third of its locations, actually made a little more than it did last week, pushing it back up into the number eight spot. Matthew McConaughey's drama Mud, opening last weekend in eleventh place, doubled its release width to over 500 locations and eeked up to seventh place.
On the 3D front Jurassic Park 3D slipped out of the top ten this week but edged past last year's Star Wars Episode I: The Phantom Menace 3D run which banked $43 million. It's still short of, and unlikely to surpass, the 3D re-release champ Titanic 3D and its solid $57 million haul.
For the full weekend top ten, check out the chart below:
1.

Iron Man 3 *
$175,300,000
Total: $175,300,000
LW: N WR: 1
THTRS: 4,253
2.

Pain and Gain
$7,600,000
Total: $33,919,000
LW: 1 WR: 2
THTRS: 3,287
3.

42
$6,210,000
Total: $78,336,000
LW: 3 WR: 4
THTRS: 3,345
4.

Oblivion
$5,797,000
Total: $75,969,000
LW: 2 WR: 3
THTRS: 3,430
5.

The Croods
$4,225,000
Total: $168,743,000
LW: 5 WR: 7
THTRS: 2,915
6.

The Big Wedding
$3,875,000
Total: $14,210,000
LW: 4 WR: 2
THTRS: 2,633
7.

Mud
$2,150,000
Total: $5,158,000
LW: 11 WR: 2
THTRS: 576
8.

Oz The Great and Powerful
$1,822,000
Total: $228,568,000
LW: 13 WR: 9
THTRS: 1,160
9.

Scary Movie 5
$1,435,000
Total: $29,603,000
LW: 7 WR: 4
THTRS: 1,857
10.

The Place Beyond the Pines
$1,298,000
Total: $18,678,000
LW: 9 WR: 6
THTRS: 1,162
Your Daily Blend of Entertainment News
Thank you for signing up to CinemaBlend. You will receive a verification email shortly.
There was a problem. Please refresh the page and try again.