This Is Who Ruined The Wolverine's Last 5 Minutes, According To The Writer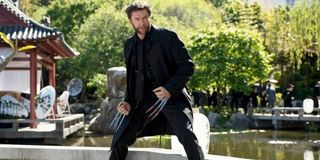 Writer Scott Frank, whose eclectic resume includes Marley & Me and The Wolverine, has revealed that he despised the ending to the superhero blockbuster, before blaming 20th Century Fox for the way it concluded.
While promoting his upcoming film, A Walk Among The Tombstones, with Screen Crush, Frank opened up about scribing the solo outing for Logan, revealing that he had never ever planned to write a superhero movie. After it was pointed out just how diverse his repertoire of films is, Frank declared: "That's a weird credit, isn't it? And Wolverine, too! I mean, I railed against superhero movies all the time and low and behold, I write one."
Despite these protestations, it would appear as though Frank actually enjoyed his time working with director James Mangold on the epic... until the end. As it turns out, he isn't a big fan of the way James Mangold's movie concluded, stating:
Detailing how he got involved in the project, Frank revealed that he'd only read one comic, Old Man Wolverine, and that influenced his tone as he worked on the script. "I thought about it more in terms of Outlaw Josey Wales or Unforgiven than traditional ways you think about him. I just thought of this guy as very isolated."
Frank then outlined his agenda to Mangold, insisting that Wolverine had to lose his "superpowers," because otherwise it would have been "cheating" and "uninteresting from a narrative standpoint." And it's hard not to argue. This largely happens in the movie... until those final minutes of The Wolverine, when it stumbles backward to traditional superhero-genre mode. Remember all of this silliness?
Still, despite these concerns, Frank made sure to point out that he still believed Mangold did a sterling job with the movie and he "was really brave to go in a different direction" that had a totally different tone. Just don't expect him to be returning to the genre anytime soon. His latest film, A Walk Among the Tombstones, stars Liam Neeson. It opens everywhere on Friday, Sept. 19.
Your Daily Blend of Entertainment News
Thank you for signing up to CinemaBlend. You will receive a verification email shortly.
There was a problem. Please refresh the page and try again.