X-Men: Days Of Future Past Will Shoot In 3D, And Bryan Singer Explains His Secrecy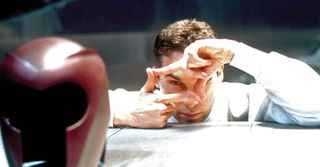 Bryan Singer admits that making Jack the Giant Slayer was a much-needed break from films like his two X-Men films and Superman Returns, in which fans are desperate for any detail from the film while it's in production. But he's also about to head right back under that microscope, as he prepares to return to superheroes with X-Men: Days of Future Past, which goes into production this year. As he's been doing press for Jack Singer has dodged nearly every question with specifics about what he's planning, so I chose to ask him something a little different: why so secret to begin with?
After all, I told him, when X-Men: First Class was in production he was pretty forthcoming with details about what fans could expect about the prequel to his two X-Men films. So why was everything on lockdown this time?
If you haven't been keeping up on your X-Men rumors, Days of Future Past will be drawing fro an arc in the comics of the same name, in which Kitty Pryde travels back into the past to help avoid a terrible future. We don't even know if Kitty will be the time traveler in this one-- though some strongly suggest it-- and all other details are hard to find, but when Singer promises something new, he could mean just time travel… or something way bigger that he's working hard to keep secret.
He's certainly pulling that off, though he's dropped a pretty suggestive hint when talking about the motion-capture technology used in Jack the Giant Slayer to create the giants, saying "I'll probably use some of the motion-capture technology for certain things [in Days of Future Past]." He also confirmed, for the first time, that he'll be using his lessons in 3D from Jack on the next X-Men film as well: "And of course the 3D technology. I'll be shooting native stereo on X-Men."
For some X-Men fans Singer's return to the franchise may mark a return of the metaphorical resonance that was found particularly in X-Men 2, such as the famous "coming out" scene in which a teenage mutant admits his true nature to his parents. Singer points out that that kind of metaphor has always been present in the X-Men universe, and that in Days of Future Past-- probably owing largely to its time travel themes-- the ideas are going to be more about linking up past and future selves:
Asked if that felt particularly resonant to him, after nearly two decades of making films, Singer laughs: "I wouldn't change a thing!" But he also admits: "It's true. I've lived years, and there's the past, and you see how the things I did as a young person put me where I am, or made me what I am today."
Jack the Giant Slayer opens in theaters March 1, and you can read more of our conversation with Singer about that film-- including an explanation of Ewan McGregor's amazing hair-- closer to the film's release.
Your Daily Blend of Entertainment News
Staff Writer at CinemaBlend