Zach Galifianakis And Ted Danson Reunite/Feud In Mistaken For Strangers: The Play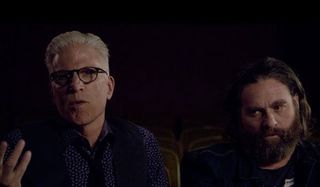 Since the sensational dark sitcom Bored to Death wrapped in 2011, fans have hungered for its stars to reteam. While we're still waiting on a Bored to Death movie, two of the three leads from this celebrated HBO series have reunited for Mistaken For Strangers: The Play. Okay, so it's not a real production. It's a sketch from Funny or Die. But hey, it has Ten Danson fighting with Zach Galifianakis. So, we're happy to have it. (Cheers!)
Mistaken For Strangers: The Play is a bizarre bit of viral advertising for a compelling and surprisingly funny documentary called Mistaken For Strangers. As suggested above, the doc follows the popular indie rock band The National on their High Violet tour. But far from your standard concert doc, Mistaken For Strangers doesn't focus on the band's wild successes or the trials and travails of life on the road. Instead, the movie centers around a non-band member to tell a story that's both relatable and, at times, stranger than fiction.
Tom Berninger is the little brother of The National's lead singer Matt Berninger. Through sheer nepotism he was hired to be an assistant tour manager. But Tom fancied himself a filmmaker, and often discarded his duties to party or follow his passion. As you might imagine, this caused considerable tension between the Berninger brothers, which is frankly explored in Mistaken For Strangers, and beautifully parodied in the sketch above where Ted Danson plays the rock star brother and Zach Galifianakis plays screw-up documentarian. The latter two are almost dead ringers.
Together Danson and Galifianakis recreate some of the film's most intriguing moments, like when the Berningers bicker over Tom's lack of direction (in life and in the film itself), and when he aids his brother in showmanship by spooling out the microphone cord as he takes to the crowd.
You can get a taste of the two in action with the trailer for Mistaken For Strangers below:
When I had the pleasure to review Mistaken For Strangers out of the Tribeca Film Festival last year, I called it, "Wonderfully unguarded, presenting a vulnerability and self-deprecating humor that make it a joy to watch." It's exceptional and poignant, and now you can see it for yourself as Mistaken For Strangers is now on iTunes. (opens in new tab)
Your Daily Blend of Entertainment News
Staff writer at CinemaBlend.
Your Daily Blend of Entertainment News
Thank you for signing up to CinemaBlend. You will receive a verification email shortly.
There was a problem. Please refresh the page and try again.