The Fun Way Lin-Manuel Miranda Let Us Know He And His Wife Are Expecting Again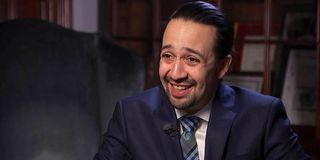 Broadway actor, composer, and songwriter Lin-Manuel Miranda and his wife, Vanessa Nadal, recently appeared for photos on the red carpet at the Theatre Royal, Drury Lane in London for the 2017 London Evening Standard Theatre Awards. The gorgeous couple looked stunning, Miranda in a handsome black suit and Nadal in a beautiful floral maxi dress. But Something was visibly different about Ms. Nadal. Yes, it was her noticeable baby bump, and when Miranda later reposted pictures of the evening on social media, many of the Tony Award winner's fans and followers took notice with questions. Take a look at the first photos that got the conversation started:
When Lin-Manuel Miranda retweeted the Stage Faves red carpet Twitter post, people chimed in with questions about whether or not Vanessa Nadal appeared to be pregnant. It created a pretty engaging dialogue among some Twitter users. For example, some people asked direct questions about the possible pregnancy, but others were tweeting about how the fans and followers of celebrities ought not to probe for answers about possible pregnancies until the stars are ready to say something on their terms. But others still were cutting to the chase and giving congratulations. Regardless, when the acclaimed Hamilton creator and star took notice of the questions surrounding whether or not his wife had a bun in the oven, he went ahead and confirmed in the most amusing way. Check out his response:
How funny and exciting at the same time! This means Lin-Manuel Miranda and Vanessa Nadal are about to welcome their second child. The happy couple, who married in 2010, are already mom and dad to their three-year-old son, Sebastian, who evidently is more excited about the pregnancy than anybody else out there. Later, Miranda tweeted that little Sebastian had for some time been asking his parents for details in a comical way. The playwright tweeted,
Aw, kids say the darndest things, and with a gifted wordsmith like Lin-Manuel Miranda for a father, it is no wonder little Sebastian is already having fun with creative vocabulary. It will be fun to see whether Miranda and Vanessa Nadal add another boy to the mix or have their first daughter. We'll have to stay tuned for the details. Congratulations to the happy family!
Your Daily Blend of Entertainment News