Titanic Memorial Cruise Delayed Due To Passenger Needing Airlift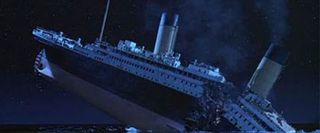 The 100th anniversary of the sinking of the Titanic is right around the corner. Knowing this, the Fred. Olsen Cruise lines – whose parent company, Harland and Wolff actually built the Titanic – put together a lovely and expensive memorial cruise for fans of the period and relatives of the Titanic's original passengers, to enable them to enjoy some of the sights and even some of the meals the original cruise featured. Now, the commemoration cruise itself has encountered an unsettling issue.
The Titanic Memorial Cruise got off to a fine start on Sunday, sailing from southern England to Cobh, Ireland (formerly Queenstown) in the attempt to exactly retrace the path the famous ship forged so many years ago. Unfortunately, fans hoping to rework the historical journey will now be forced to take a slight detour. According to Fox News, there has been a medical emergency on board the ship. One of the passengers needs to be airlifted to a hospital and to do that the cruise will have to go off route and get close enough to shore to accommodate a helicopter. The captain declined to say whether the passenger was dressed in period gear or not.
Although we probably won't be looking at a death by corset, the delay might mean the ship needs to speed up to fully meet its mission: following the Titanic's path until its sinking, whereas the ship plans to have a memorial service at the exact time the boat hit the iceberg and later, at the time when the Titanic actually sunk. While the whole thing sounds like a bit of strange and morbid fun, the delay will likely cast a bit of a shadow over the whole trip. Hope it is still worth the 4-9 thousand dollar cost.
Your Daily Blend of Entertainment News
Thank you for signing up to CinemaBlend. You will receive a verification email shortly.
There was a problem. Please refresh the page and try again.