24: Live Another Day Photos Show Us Jack, Chloe And Some New Faces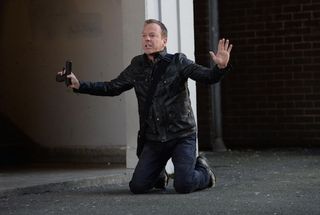 Who's making Jack Bauer surrender his weapon? Don't they know that Jack Bauer is a human weapon capable of thwarting terrorists, assassins and other problem causers the world over? You can make Jack Bauer put down his gun, but if you think that'll stop him, you will be disappointed. The above photo is just one of a bunch of pictures Fox released to tease 24: Live Another Day.
There are other photos, which show off returners Chloe, O'Brian, Audrey and her father James Heller...
(I like to imagine that Chloe's new look is at least partially inspired by Angelina Jolie in Hackers)
And then there's a handful of newcomers to the story, but before we get to those photos, let's look at the synopsis, because most of the people mentioned in the series description are glimpsed in the pictures, so this should add a bit of context...
Here's Benjamin Bratt as Steve Navarro, head of the CIA:
Here's Yvonne Strahovski as Kate Morgan, CIA agent:
Giles Matthey as Jordan Reed, the smart and sophisticated CIA computer tech...
The Wire's Gbenga Akinnagbe is Erik Ritter, the sharp, strong and arrogant field operative, who is rocking that purple shirt and I hope it wears it all "day" long!
Tate Donovan plays Mark Boudreau, Audrey's husband and Heller's chief of staff...
Here's Michael Wincott as Adrian Cross, the high-profile hacker...
And the last names mentioned are Stephen Fry and Michelle Fairley, but Fox hasn't given us glimpses of either of them yet, unfortunately. Fairley only joined the series last month, coming in to replace Judy Davis in what sounds like a villainous role.
24: Live Another Day premieres Monday, May 5 at 9:00 p.m. Et on FOX.
Your Daily Blend of Entertainment News
Thank you for signing up to CinemaBlend. You will receive a verification email shortly.
There was a problem. Please refresh the page and try again.